You are currently browsing the tag archive for the 'Comic Review' tag.
So, confession time. I have never liked Spiderman. I only read a few comic when I was young and they were pretty mediocre, and it wasn't until the Sam Raimi movies that I was exposed to the friendly neighborhood web slinger again. AND I FUCKING HATE THOSE MOVIES. Without going too much into it, the main reason is the portrayal of Spiderman himself, by one Tobey Maguire, as a simpering, annoying idiot.
When I voiced this to a friend who was an avid comic reader, around the time of the second movie or so, he told me that WAS Spiderman, and I probably wouldn't like any comics with him in it either. So I really never was interested until I found out from much more…informed people that this is not how Spiderman actually is supposed to be. So I thought "Well, I should read some Spiderman then!". But no, dear reader. For by these same people I was also informed that Spidey had taken a nose dive with the events of a book called One More Day, in which Spiderman makes a deal with the devil because blah blah blah (if you really don't know by now, the Internet is full of stuff about it and why it sucked).
But, being and objective reader and not wanting to just give up again on this franchise, I decided to throw caution and good sense to the wind and picked up this issue, mainly because the variant cover looked good. It…kinda worked out?
Summary: So, we open with a brief monologue from Peter Parker recapping some events, kind of. He mostly just talks about how beautiful Mary Jane looked at the wedding. But, in between Spider-dweebs babbling, we get brief info about Jonah Jameson, Spideys "worst enemy", becoming mayor, Jonah's dad marrying Aunt May, and Dr. Octopus and Norman Osborn doing evil things that will have no effect on this issue.
The comic proper begins with a series of flashbacks about Aunt May's wedding reception and how Mary Jane was there. Interspersed with this is Peter waking up the next morning in bed with someone named Michelle (apparently his roommate who doesn't like him) and her getting pissed at him because…he doesn't remember? Whatever. Point is, she says she wants him gone.

Oh, believe me, Spidey, many comic book fans have beaten you to it.
Then, Spidey swings over to his Aunt May's house, looking for a place to stay, but finds that it is now populated by relatives, living there until Aunt May returns from her honeymoon. So he saunters off, pondering what he can remember of last night's event (he made a date with MJ, but can't remember when or where).
From there, the comic goes into classic Super Hero mode: Peter finds out about a fire, shows up, saves the day with somewhat witty remarks and quick thinking.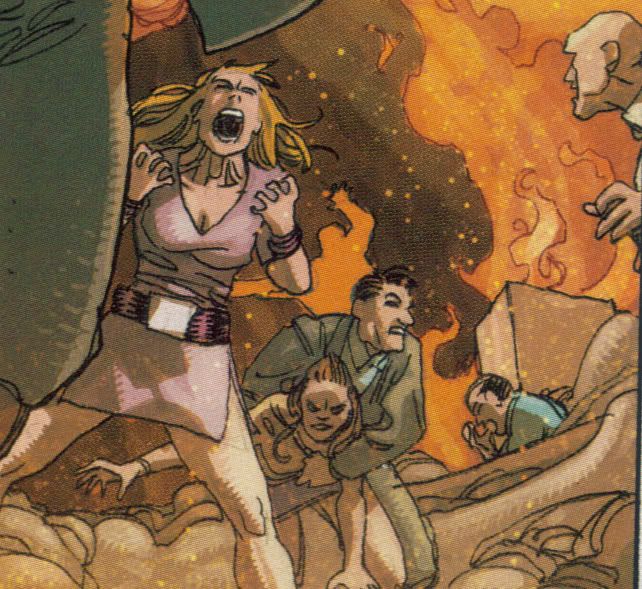 "Fear not, citizen, for I am the Incredible Firescreamer! With the amazing ability to yell out fire!"
The comic ends with Peter remembering where to meet MJ, but sadly she oversleeps and never shows up. It also contains a short little bonus story about parenting and role models, that is alright, I guess. A little corny, but that's better than nothing.
Writing: This may come off as more of a critique of Spiderman in general, so bare with me. In regards to the comic, it ranges from banal, the stuff about his sleeping with Michelle and the date with MJ, to average, with him saving the burning building. Nothing really special about this comic, but for what it is, it's well executed.
But on to Spiderman in general (and this may leak over unto the whole of Marvel as well), I really hate Jonah Jameson. The "I'll get Spiderman" schtick was old before it got started. I know he has served some purpose (and I actually like him in the movies) but he falls so flat. He basically serves as a device for the writer to go "Poor Spiderman, no one likes him. Look how wrong Jameson is about him!". He straw-man's all critique of Spidey's actions, as opposed to what he should be, which is someone who voices actual concerns about Parker that allow Pete to question his own actions and become stronger through it.
That's just the direction I would have liked to see it go, but maybe that's not what Spiderman is really about, after all, I'm new to his world.
But one thing I am not new to is the biggest gripe I have with Marvel. The civilians. Holy crap I hate them. They range from completely helpless to stupid and vindictive. Not only do they change sides at the drop of a hat, but they just act incredibly idiotic (the Screamtress up there is a perfect example). And when it comes to stories about people trying to save them, its hard to get into it when you don't care if they live or die.
Also, like every Marvel comic I've read, every time a character references a past story, a little box pops up to talk about it, and tell you what issue. This is helpful at first, but after a while it kind of feels like they're just pushing things on you.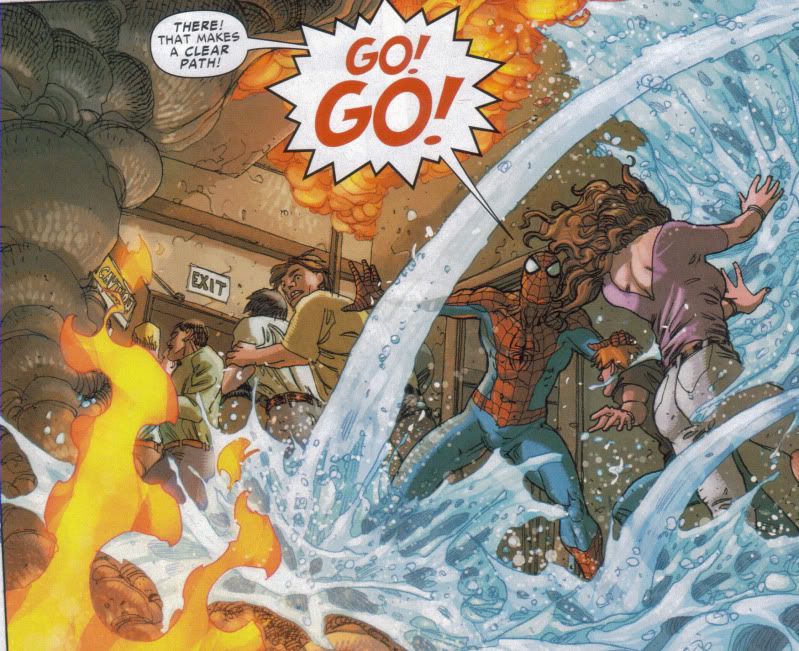 "No, Spiderman, I, the great Water Pusher, shall assist you!" (Christ I hate these people)
Art: The comic shines here, mostly. The flashback sequences especially utilize color in a way that makes it flow well with the inter-cut of the morning after. There is one thing, however, that the artist can't seem to get right, and that's faces. Now, every artist approaches the human anatomy differently, so obviously, not every face looks exact. But this…well…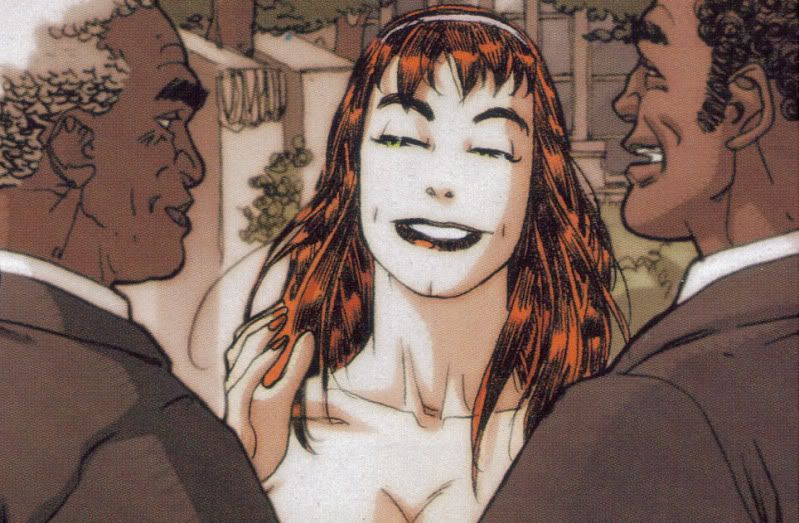 I think Mary Jane may have been to Innsmouth recently!
Depending on the angle, Mary Jane looks either like a man, or a fish person. It's rather bizarre. I suppose it doesn't take anything away from the story, but after Peter's drooling over her for most of the comic you have to wonder if he's into some weird shit.
Overall: Amazing Spiderman 601 isn't terrible, it's nothing special, but from what I've been hearing about Spidey these days, that's probably better than normal. It doesn't require any knowledge of his continuity to get into, and in fact, I suspect it was better because I didn't know a whole lot about the current storyline. However that's not much of a recommendation, is it?
…Better than those goddamn movies, though.
It's Halloween, dear viewers, and I think it's a perfect time to do two things. First, to get back to the reason why I started writing these articles, which is to look at comics from the perspective of a relative outsider. And Second, to talk about the largest event in the DC universe at the moment, Blackest Night. As a huge fan of horror, and a huge fan of DC, this seems like it could be a winning combination, and upon the recommendation of Mr. Jennings, I decided to pick up Blackest Night: Superman #1 of 3.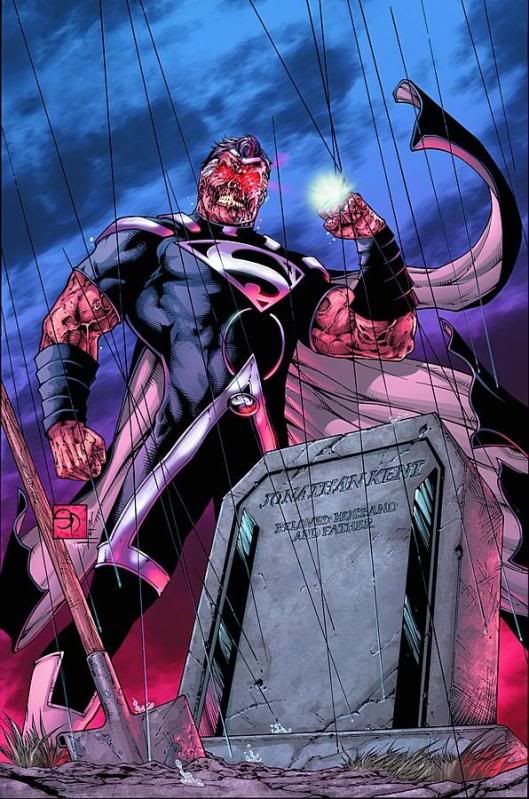 Summary: It opens like a classic horror film, with "Kal-L of Earth 2" rising from his grave, commanded by an unseen force that speaks in black text boxes shaped like a green lantern symbol. After some establishment that we are in Smallville and a mysterious shape is flying through the sky. We cut to Superman and Conner (Superboy?) and the Kent farm, having coffee with Ma Kent. (Side note, Jonathan Kent is apparently dead, it's not discussed why or how in this comic). During their nice sit down, we see things from the perspective of Zombie Superman 2 (He is still technically Superman, right?) as he stalks about town. It is here we are shown that not only can he see people's base emotions, he also keeps talking about his power level (does he feed on the emotions? Never explained).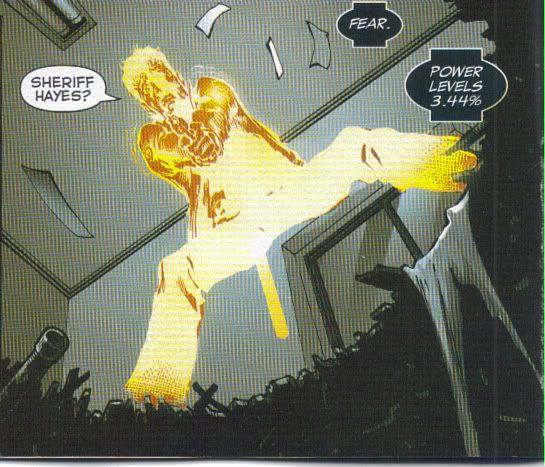 "Well no wonder he's afraid, apparently Zombie Superman is also a Super-SAIYAN! (That's the last one I swear…)"
Eventually, Superman and Conner find Zombie Kal-L in the graveyard, digging up the grave of Jonathan Kent (I think). A fight ensues, with Zombie Superman wooping ass and almost killing Conner. He then leaves, and during this, zombie Lois Lane (from Earth-2 as well, I think) shows up and kidnaps Ma Kent. Then Superman and Conner track the zombie honeymooners to town square, where they notice the town is abandoned. Then, the Zombies reveal themselves, posing for the final page of the comic, holding Ma Kent hostage.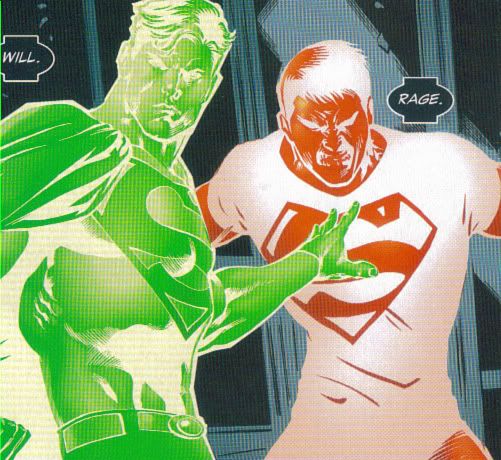 "What? Now Conner's a 28 Days Later zombie? I just don't get this comic at all…"
Writing: The story does a good job at creating a homage to a slasher film, as advertised. It builds mystery and tension to the reveal of Zombie Superman, and even afterward you are left wanting to know what he's really after, which hopefully the other 2 issues resolve. However, from a new reader standpoint, this comic is confusing as hell. The whole Earth 2 really blindsided me, as did the New Krypton thing (it was a brief side plot I glossed over because it had nothing to do with the main story). I considered myself at least a bit knowledgeable about the DC universe, but I have no idea what the crap they are talking about. The black lantern rings would also probably throw a new reader off. However, there is a lot of stuff at your local comic book store that contains "checklists" of sorts, so you can read the Blackest Night stuff in order, which will makes thing more clear, I hope.
Beyond that, this comic is good, although the seeing emotion thing got kind of tiresome after a while. Also, I don't normally talk about lettering and the like, but the Black Lantern narration style boxes are very clever.
Art: The art is fine, nothing special, but well executed nonetheless. For the most part, anyway. There are a couple moments where I question some facial expressions, mainly this one close up of Superman where it looks like he's possessed by the Devil.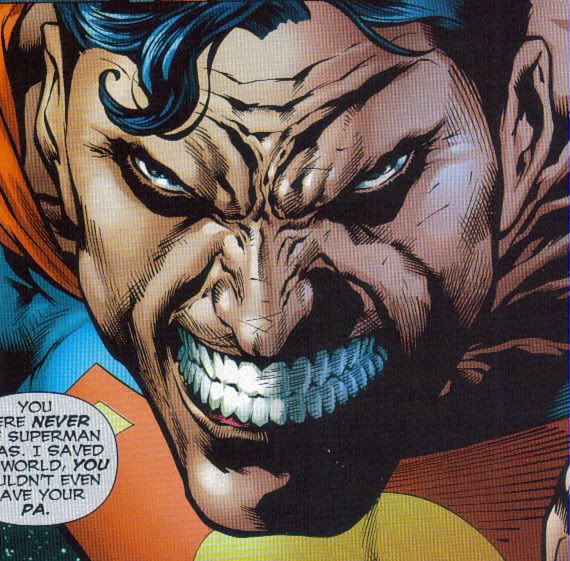 "Um…that's not the evil Superman, right?"
Also, for no reason I can gather (aesthetic choice, I guess) the panel order will shift from left to right on one page to a two page left to right format. It's pretty jarring, although not deal breaking.
Overall: It's an enjoyable story about Superman, although I would have to read the rest of this three part mini-series (and for that matter, the rest of Blackest Night) to figure out not only if it's good, but also what the hell is going on.
But more than that, this comic poses the most pressing dilemma that the DC universe has ever faced:
Does being a Zombie make Superman more or less invulnerable?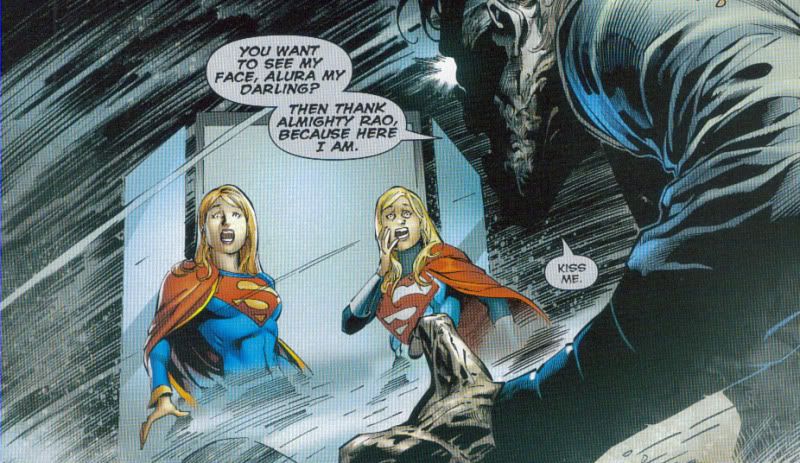 "…"


"Gimme Some Sugar, Baby."
HAPPY HALLOWEEN!
This article was originally titled Adjectiveless Comic Review: X-force #1, but was renamed to fit the series that it was more suited towards.
Well today is another big day for celebration here at CBO Productions. We turned a month old yesterday . I know this may not seem important to most people, but a lot has happened in this past month. We went from a small, inconsistent readership to a medium-sized, steady daily readership, we had an article win Awesome Blog of the Week over at TGWTG.com, and we added a new member to the staff here at CBO Productions. I will talk more about him later, but all you need to know is that he is more behind the scenes and will be posting content sometime in the future.
Enough of that. I am not here today to talk about the workings of CBO Production, I am here today to review a comic that you can probably find in any shop that sells back issues. That comic is X-force Vol. 1 #1
Credits:
Written By: Fabian Nicieza & Rob Liefeld
Pencils & Ink By: Rob Liefeld
Letters By: Chris Eliopoulos
Color By: Brad Vancata
Editors: Bob Harras
Editor-in-chief: Tom DeFalco
I was saving this comic for another review series, but we have been a site for over a month and yet to post a Adjectiveless Comic Review. The name is in the header after all. So in honor of the 1 month anniversary I busted it out of its plastic wrapping. I guess I should explain that real quick.  Back during the 90′s almost every major first issue of a comic that might be big was wrapped in plastic and called a "collector's item".
This led to the increase in speculation of the value of comics and more people buying them as an investment. Unfortunately, this led to the collapse of the comic book industry in the late 90′s. There is more to this story, but that is for another day. We are reviewing a comic that started a long franchise and introduced major characters in the X-men universe.
Let's start this review by examining the cover.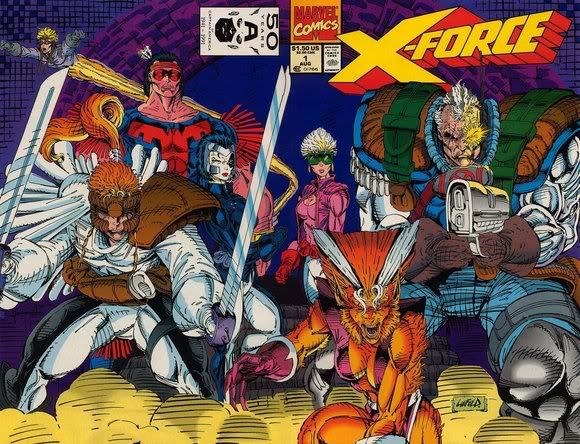 We are given this simple wrap around cover.  I admit wrap around's are a great idea in principle. Expand the size of the cover to allow more art. Problem here is that the art is bland at best. As you can see by the signature on the cover, this cover was illustrated by Rob Liefeld. His trademark art style is all over this cover. Bulging muscles, shoulder pads, disproportionate appendages, squinty eyes, and pouches abound. My God the pouches. Cable has 3, Boom Boom (the girl in pink) has 3, Shatterstar (man in white) has 4 and what seems to be a super pouch across his waist, and Domino has 3 visible. Another thing that sticks out is the weird headgear on Domino and Shatterstar. At first I figured Shatterstar's must be from the Mojoverse (his home dimension), but Longshot (another Mojoverse character) doesn't have such head gear.
So why does Shatterstar wear such a pointless article of clothing? At least Domino's seems to be for function as it has a head set. Shatterstar's just looks silly. I guess at the time it was meant to look cool, but either it looked silly then or didn't age well.  Speaking of poorly aged characters look closer at Boom Boom. She looks like some random punk rock chick. The big sunglasses and hair that can only be seen in an Aqua-net commercial.  I know this comic was written in 1991, but dang don't ever make a character design that immediately dates your character. I could write pages just about how silly everyone looks on this cover, but I won't. We would be here all day if I did, and I best be moving on to the actual comic itself.
Now a bad cover can be saved by a great book, but this isn't the case with X-force #1. The book is mediocre at best. Here is the entire plot synopsis:
Cable and the rest of X-force attack the Mutant Liberation Front headquarters in Antarctica for no real reason other than to stop them and their leader, Stryfe. They battle the MLF's henchmen and beat them firmly into the ground. Stryfe  notices defeat is looming and proceeds to blow up his own base. Cable tries to chase down the MLF leader, but Stryfe teleports away with the rest of the MLF goons before the hero can catch him. Meanwhile in a separate, unrelated plot, two characters, Gideon and Sunspot, are talking about the thrilling world of business. We learn they are going to buy out a company. Then the story jumps back over to Plot A with Commander Bridge and his group of SHIELD agents looking over the wreckage of the MLF  base explosion. Bridge identifies Cable's weapon among the wreckage and alerts SHIELD HQ of Cable's actions and the threat he poses to the world.
The story location jumps to X-force's HQ in a former Sentinel base. Cable acts mysterious and reveals only a small part of his back story to Cannonball. After Cannonball leaves, Domino walks in and catches Cable using his telekinetic powers. Domino warns Cable about using his powers in the open and tells him to be more discreet with his past. The story then jumps back over to Plot B, with Sunspot and Gideon, as they are going to the meeting to buy out the company discussed earlier. The owner of the company brings in her muscle, Tom Cassidy, to prevent the buy out. The comic ends plot B with a cliffhanger as Cassidy announces that he is holding Sunspot and Gideon hostage for "Scads of Money". The comic jumps one last time over to plot A as Commander Bridge tells Colonel Fury about the situation with Cable. Fury orders Bridge to call in Weapon X, and with that issue 1 of  X-force ends with two cliffhangers.
It seems like a lot is going on in this comic when in reality there isn't really anything happening. There is one scene of any real action, and that happens in only 10 pages of this 33 page comic. This is a book that was billed as an action title back in 1991, and it fails to deliver the goods. There are almost as many pages devoted to the "Sunspot and Gideon business world" subplot as there are to the action pages. Instead of action we get pages upon pages of vague dialogue and narration.
The writing is the real crime of this comic, not the art. Look at this gem of a first page right here: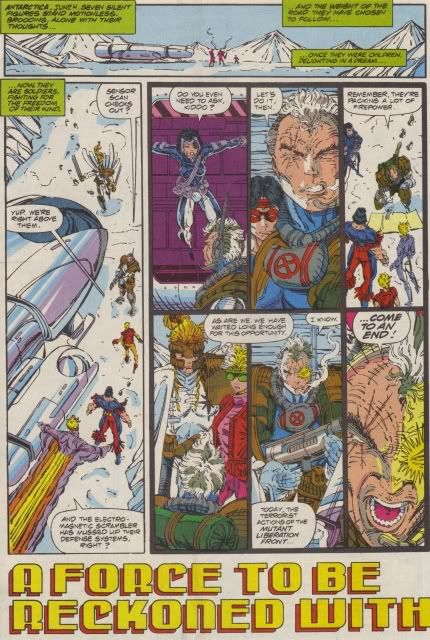 Got to love the narration in the first panel.  It is like Nicieza was trying to add some depth to this comic by making the heroes seem troubled by their actions and what they are about to take part in, but no. They are just waiting for the sensor scans to come in before they attack. They don't seem hesitant at all. Actually, they seem to want to go in there and bust some heads. I do love the last line from Cable, "Today, the terrorist actions of the Mutant Liberation Front… COME TO AN END!"  Nothing really bad about it. Just funny how the last part of the sentence is screamed and the art reflects it so well.  The comic continues with the bland writing throughout the book, and it doesn't help how the plot is paced. The rough cuts between the separate plot lines is jarring and unsettling to the mind. One minute you are in Antarctica and the next you are in New York, often on the same page. It is like the team behind this book didn't understand the basic premise of spacing the locations out on two separate pages.
Now some books can alternate between two locations and it works, but that is because the two locations contain two sides of the same plot and it adds dramatic effect. Take this quick sample I just threw together:
Setting: The Hero, Jim, has confronted the sinister villain, Mastermind about his fiendish plot. The villain has captured Jim's girlfriend Alex and placed her somewhere with a bomb attached.
Panel 1:
Jim is standing before Mastermind.
Jim:
MASTERMIND! Where is Alex?!
Mastermind:
Well Jimmy boy, that is for me to know and you to find out.
Panel 2:
Alex is lying on the floor with a gag in her mouth. She is incapacitated and is surrounded by kegs of gunpowder. On top of one of the barrels is a clock wired to the barrels. The clock is counting down from 1 minute.
Caption (Mastermind):
I will tell you this. She is about to have a blast. Muahahaha!
Panel 3:
Jim is clutching Mastermind by the shirt. A countdown timer is in the corner.
Jim:
You sick freak. You better tell me where she is or I will…
Mastermind:
Or you will, WHAT!? You and I both know you don't kill. So what threat do you pose to me? I am going to prison as it is, might as well take someone out before you put me away.
Mastermind:
And who better than your…
Time Caption
00:30
Panel 4:
Alex is waking up to discover the powder kegs surrounding her. Her face shows the look of fright and horror as she discovers her predicament. The clock face is visible and shows only :25
Caption (Mastermind):
Precious little girlfriend!!
Alex:
Someone, anyone, HELP!!!
Panel 5:
Jim has his fist glowing with the red energy of his rage. Mastermind is just leaning back, laughing. The timer is still in the corner
Mastermind:
HAHAHAHAHAHAHAHAHA!!
Jim:
You bastard! I will kill you if you harm her! Now tell me where is she!
Mastermind:
Well if I have to say right at this moment…
Caption (timer):
00:05
Panel 6:
Just a picture of the timer stating 00:04
Panel 7:
Timer stating 00:03
Panel 8:
Timer stating 00: 02
Panel 9:
Alex is looking up at the clock with tears running down her face. The Clock states 00:01
Panel 10:
An explosion of the location holding Alex.
Caption (timer):
00:00
Caption (Mastermind):
IN HELL! HAHAHAHA!!!
That simple page conveyed more drama and intensity than X-force has in its whole 33 pages. It jumps between location on the same page for a reason. Not like X-force where they jump mid-page because they have to show a couple extra panels of unnecessary dialogue . The fact that the writing is just dull and boring really hurts this book more than its artwork.
That is not to say the art is fantastic. It is early Liefeld. I already stated some of his signatures, but here is some of the interior art. See if you can spot what is wrong with these pictures.
Have you noticed what is wrong in this picture? Well Picture 1, suffers from a severe disproportionate figure. The scale for a human body is based on head length and width. The shoulders are meant to be two "head widths" wide, and here they are at least four.  I can't tell for sure actually considering the angle of the pose. Another problem in the first picture is that he seems to have thighs the size of bowling balls and the arms of a t-rex.  That is just bad style and skill.
Picture 2 doesn't fare much better. The eyes are almost non-existent, and to quote Linkara, Cable is suffering from "Young Bloods' disease". This does make some sense as Liefeld created and illustrated Young Bloods, and here you can see his trademark style shining through. This still is not the worst of it. That belongs Picture 3.
Picture 3 looks like a joke. His legs are almost twice as long as his torso. His arms have no elbows and look like some sick steroid experiment gone horribly wrong. His torso isn't facing the same direction as the rest of his body, or at least that is what the deformed up musculature implies. His body is over eight "Head lengths" long. The body is supposed to be around six to seven "head lengths". His width is left to our wildest imagination as the art fails to convey any real depth. The knee pads are not the same size. The left arm is longer than the right. His hair is funny. His cheek bone looks like he is a crack head. Then, there is the pouches. I already talked about that some when we looked at the cover but damn, there is more here than the cover.  There is 11 total pouches shown but we can assume there is at least 2 more on the other side of that thunder thigh.
The sad thing is that there are at least four other characters who have poses much like the third picture, and the book is filled with art similar to the other two pictures. This is just pathetic, but I blame this more on the editors and the people over the artist. They should have told Liefeld what not to do, but for some reason they let it go. The consumers apparently bought it up too. So there is no one to blame for the continuation of this art except yourselves, but I better stop before I turn this into an "In Defense" article on Liefeld.
In summation, X-force Vol. 1 #1 is a mediocre comic at best. The art is horrendous, and the writing is just bland.  I found the writing to be the part that ruined the comic. The writing makes the comic forgettable. It didn't offer any real story, and only one thing happened during the whole book. That one thing happened in the first ten pages. The rest of the book feels much like filler. At least bad art is memorable, but bad writing has no excuse. This comic is just a piece of trash and not worth the fifty cents I payed for it. If you see this comic in a bin at the local comic shop, pass it up and buy X-men #1 instead. At least that had Claremont writing it.
Thanks for reading and join us later today when we will have another blog up.
Now why does this deserve a post? 1)It looks to be a movie of the year and 2) I plan to review it. Now in other news I have plans to launch yet another blog series.
This one will be about my adventures in hunting down bad comics in the bins of comic shops. I plan to write it in a narrative prose and will be different than what I usually post on the site. Still working on the voice but expect it soon.
This was just a minor update and expect a review tonight or tomorrow on District 9 and the new article soon.