You are currently browsing the tag archive for the 'Comic Book' tag.
One of the single worst comics in the history of comics has been reviewed for XTREME Holofoil Edition. You can read it over at the Comic Book Revolution.
Hello, I'm Jordan Jennings. You might know me as that guy who did those slightly humorous "In Defense Of" articles and other comic reviews. Well I am here today to announce a new project that will be coming out soon. That project is simply titled A Field Guide To The Comic Book Bargain Bin. It's primarily about me and my passion for the comic book bargain bin.  It's weird I know, but the bargain bin is a wonderful place where you can find some of the best comics ever made, but you can also find some of the worst pieces of so-called "sequential art" that has ever been conceived there as well. I know popular reviewers out there tend to pick on bargain bin fodder, namely Linkara (Normally I wouldn't mention him but it's the elephant in the room and the material may have some overlap. So I rather address it now instead of later in the comment sections.), but I will try not to do the same comics they cover unless I feel I can offer a new stance on the material or if for some reason I get a request for a certain comic a reviewer may have covered in the past. Instead I want to focus on the unsung comics that I find or stuff that sticks out to me.
Now over the past couple years I have amassed an impressive collection of bargain bin comics through either person bin diving or from my friend's donations to me. So for the first batch of articles/reviews I will probably focus on them as I have a ton of them. It's my goal to make each article interesting  to everyone by adding some background to each review ie: the story behind the comic, the story of how I got the comic, or the comics lasting impact. This should be a fun ride and maybe you will learn something. I want this to act like a field guide to the act of Bin diving (Like the title states.). Something you can read before heading to the comic shop and know what to do or what to look for while bin diving.
I will be devoting a few articles to focus just on some major era's and companies contributions to the bargain bin. I will go ahead and say the 90's is the largest era of bargain bin fodder and certain companies (Valiant Comics) have a larger presence than others when it comes to the bin. So in a way you can view this series as a history lesson of comics as well as something that is enjoyable.
That's it for this introductory article and I hope you have enjoyed it. Join me next time when I will be covering my first bargain bin comic. What will it be? Not sure just yet, though I am leaning to a certain Power Rangers comic.
This comic should be impossible to fudge. It takes three horror icons that all have a sense of humor attached to them (except maybe Jason, but even he had his funny moments), and puts them all together in what should be the match-up of the century. Well… let's see how that goes.
Summary: The comic opens to a frozen Crystal Lake, and Jason floating in his usual hibernation pose, sans hockey mask. It copies the opening of Freddy vs Jason by having Freddy, who at this moment is banished from the mortal realm (I think), impersonate Jason's mom, in his head, again. Jason, he's not a bright boy. Freddy decides to sick Jason on Ash this time, who apparently "killed" Jason at the end of a previous comic. So Jason awakes and kills some people, heading towards the home of Ash, who is now enjoying the retired life. I won't tell anymore, because I don't want to spoil a comic that I actually didn't dislike (is that a double negative?).
Writing: It's good, to a point. One thing that is definitely improved is the humor. Although there isn't a lot of it. At first, I thought this was simply because of the fact that they are trying to cram a lot of set up in there, and they are, but that's not why. I think the reason why the humor of A Nightmare on Elm Street and Evil Dead simply don't work in this medium is because they largely depend on the delivery of the key actors, Robert England and Bruce Campbell, respectively. The jokes that are here are actually not bad, including a really hard to spot one that I loved. When I found it, I was so glad they didn't point it out. Here, see if you can find it: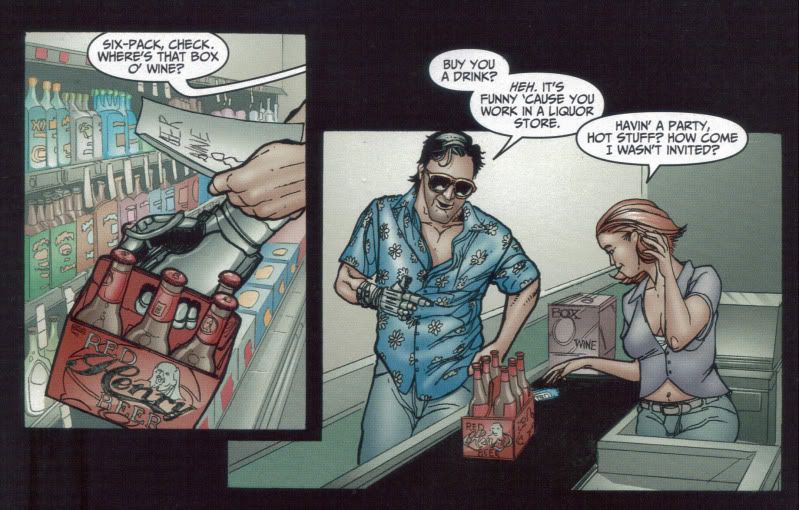 Art: The comic suffers here a bit, but not too much. There are some occasional posture or facial shots that seem really bizarre, but other than that no big complaints, except…
I'm not sure who to blame for this, but the artist (or letterer, depending on who did it) should have known better. I'm pretty sure this was supposed to be menacing and faithful to Friday the 13th, but it is neither. What it is, however, is an unintended source of hilarity. Not only is the noise wrong (it is supposed to be ki-ki-ki ma-ma-ma) the echoing sound of "Kill Her Mommy" that Jason Vorhess' mother hears her son tell her in the first movie, but also, it was never meant to be displayed in this way. It would have been less distracting if Freddy walked behind Jason wherever he went saying it instead.
Also, Ash is wearing Elvis shades, which can't help but conjure up Bubba Ho Tep flashbacks, which is awesome.
Overall: A much worthier comic than our last entry, even if it suffers from heavy dependence on a previous comic series I missed, making a good deal of this comic seem nonsensical. I would have to say track those down first before committing to this whole series. Although, this comic is quality enough to make me wonder…
How was the Ash vs Re-animator crossover?
And so, faithful reader, in this 10th article, I depart, to hopefully return in January, new, improved, and with more comics in hand. I hope, if anyone reads these, to see you then.
I love the Evil Dead movies. No hiding it, no shame, these movies are the bee's fucking knees. Bruce Campbell? Forget about it. I have followed this guy ever since I saw him on Hercules, the Legendary Journeys as a kid. I've read both of his books. I EVEN LIKED MY NAME IS BRUCE. Sam Raimi? While I may not have liked his forays into the superhero genre (as mentioned last week) I do like most of his other films, and, as someone who was once (and is in some ways still) an aspiring filmmaker, I have an enormous respect for his ingenuity and the techniques he developed as a low-budget filmmaker.
I had heard on the commentary to Army of Darkness that Sam and Ivan Raimi had written some comics based on the movies, and it sounded alright to me. More hilarious horror adventures with our hero Ash? Sounded like a good idea to me. So, one day my girlfriend stopped by our local comic book store looking for something, saw the comic and picked it up for me.
It was not written by Sam or Ivan Raimi. Or any Raimi, for that matter.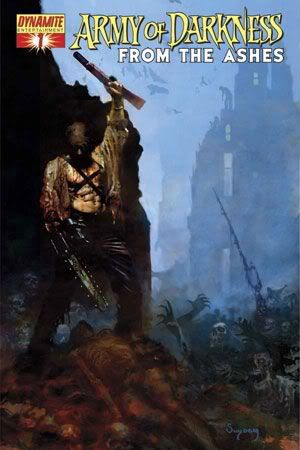 Summary: It opens with a series of references to the opening and ending of Army of Darkness, with bits of exposition about the state of the world (it seems there were some comic s in the story before this, including Marvel Zombies), peppered in. Evil Ash Prime, as he is called, has corrupted the world, and now humans are barely surviving in a world ruled by Deadites. Ash stumbles out of the cave where the portal dropped him to make a blatant joke/reference to the end of the director's cut to Army of Darkness.  Pulling himself together after weeping over the potential loss of his "Sugarbaby", he picks himself up and saunters off, right into a gang of Deadites. At least we are told they are Deadites, because except for the one that looks like a giant Satyr, these guys could be a bunch of bikers for all we know.
"Suck it, Joker, I've got two shoe-blades!"
Ash easily defeats them, because he's FUCKING ASH, and then we cut to Evil Ash's layer, where it is implied he is violating them in the other room, in ways that cannot be described. Waiting in his throne room is some evil Deadite advisor lady, and…DUH DUH DUH! Sugarbaby is there! And she's a Deadite! Another thing that wasn't clear thanks to the art. And that we're given no reason to care about.
Evil Ash comes out complaining that because he never got to kill Ash, his life is empty. His evil advisor woman says that all he would have to do is kill himself and then he could fight Ash on the other side. Sounds like a reasonable way to get out of this comic to me!
We cut back to Ash, walking around, looking lost, when an old man claiming to be a seer starts harassing him. Ash's character has apparently reverted completely to his beginning of Army of Darkness personality, and tells the old man to get bent, right before the old man starts showing him visions of the past and future, saying how Evil Ash got powerful, and what Ash needs to do to stop it, by finding a few chosen warriors. It also gives Ash the chance to make a really unfunny and nonsensical Planet of the Apes reference. Joy.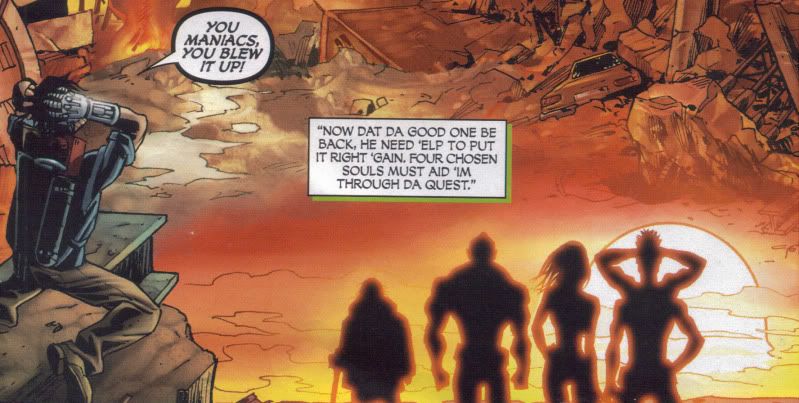 "Is that Gorro? Ash you fool, this isn't Planet of the Apes, it's the Mortal Kombat movie! RUN!"
So, his fate determined for him like always, Ash goes forth to face his destiny.
Writing: So, the idea of this story is actually pretty good. Ash taking the fight to the Deadites in a post-apocalyptic future sounds like sliced bread, but it somehow became Cazu Marzu (look it up, by all means) along the way. One big foul up was the humor. Or rather the attempt at it.
You see, in place of Ash's hilarious one liners or any real comedy, there are pop-culture references and horrifying attempts at wit. Here is my FAVORITE.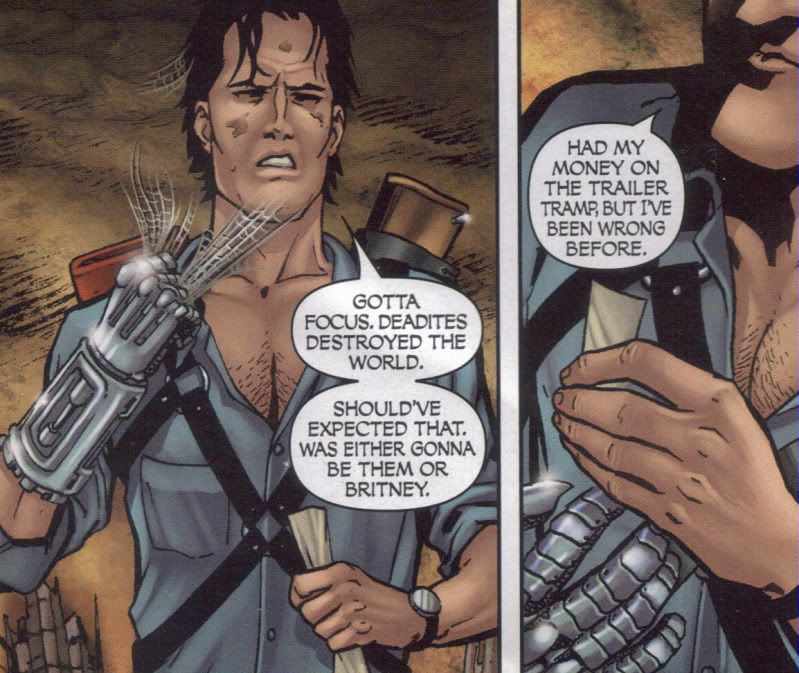 …Really?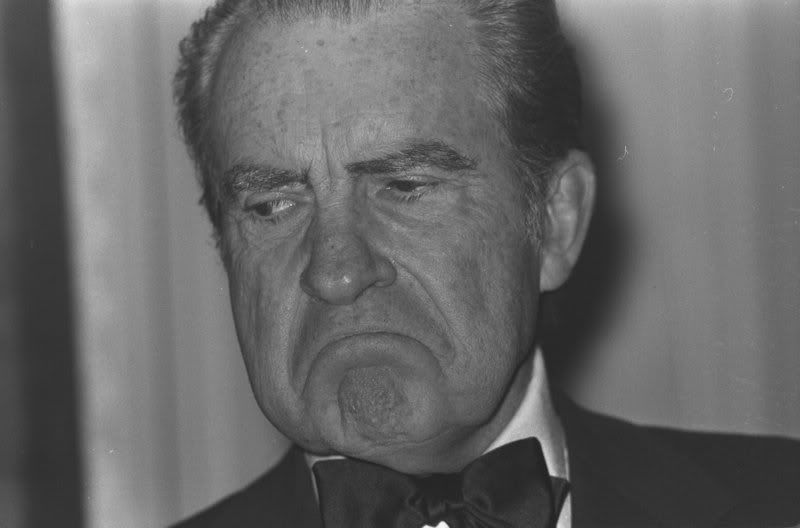 Where to begin with this? It's a stupid joke. This sort of humor isn't really funny when it's topical. So after the fact like this, it comes off as the writer saying something tasteless and stupid and then elbowing us in the ribcage. With a chainsaw.
Also, I think it was pretty clear that Ash is from the 70's-80's era. So when did he find out about any of this? It makes this comic horribly dated AND anachronistic to its own story. Speaking of which, what the hell happened to Ash? Even for a pretty one-note character in what amounts to a Gore-Comedy, he still had character growth in Army of Darkness, and in many ways even became the hero that he was destined to be, which this comic references several times. That comes across to some degree, but it just feels like the character in the comic is simply a cheap archetype of the man we all know and love. Even with these gripes, the story is still a bit intriguing, if a little stock with all of the coolness and humor washed away.
Art: The art, while decent, suffers from a lack of continuity with the story, and with Ash's face. We all know Bruce Campbell has a big chin, guys. You don't have to have it trying to eat the rest of his face in every other panel.
If there is any complaint beyond that, it's that nothing is really memorable beyond the cool, if a bit muddy, cover. And the opening few pages with the Necronomicon are done very well.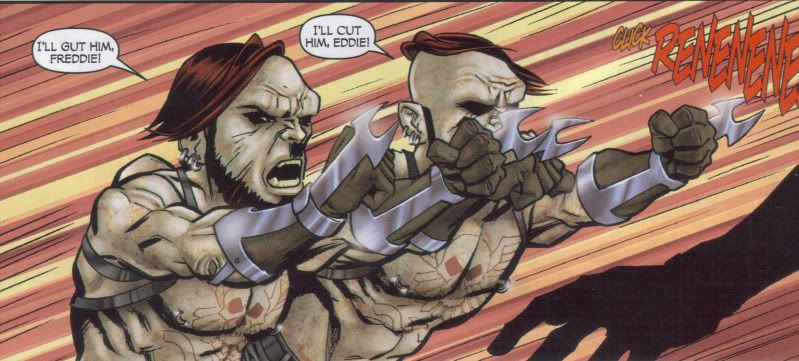 Hmm….


"Yeah, with a knife" "Or a Bigger Knife" "FUCKING KNIFE"
Overall: This comic was at best mediocre, even through the rose colored glasses of a fan of the franchise, who really wanted to enjoy it. With piss-poor humor, and the man, Ash, apparently being replaced by a conventioner cosplaying as Ash, I can't recommend it to anyone, especially new readers, as there is a good deal of continuity that is missing without previous issues and Marvel Zombies. And if there isn't, then the writer is just lazy.
Next week I will be looking at another comic starring the S-Mart CSR from Housewares, one that involves some other horror icons as well…and what's funny, as I read the ads in the back of this book, is that my statement hardly narrows it down.