You are currently browsing the tag archive for the 'Comic book review' tag.
A while back I was at my local comic book store and I noticed some assorted comics with the Watchmen logo on them that said at the top "After Watchmen…What's Next?". This kind of corporate shill bootstrapping makes me sick sometimes, but the idea was to make certain larger graphic novels (Sandman and this one especially) more accessible to the noobs like myself, which I can appreciate. It was only a dollar for the first chapter of one of these said novels, so I took a look through the pile and this one jumped out at me:
I had a vague recollection of hearing this was good, and that Warren Ellis was a very talented writer, so I decided to check it out. One of the best dollars I have ever spent.
Summary: Transmetropolitan is the story of Spider Jerusalem, a political cult reporter who got disillusioned and holed up in a cabin in the mountains, blasting anything that got too close. Unfortunately, before he left, he made a deal with a publishing house to write two books, which he never intended on. Now, the time has come to pay the piper, and Spider must return to the city he hates, get his old journalism job back to pay for expenses, and finish both books within one year or be sued into debtors' jail.
There is a lot to love, just in this first chapter of the story. It's funny, in a very dark way, and its vision of the cyberpunk future is colorful while still being somewhat bleak. The characters are especially vibrant, in design and in personality, and they leave impressions even if they don't have a lot of panel time.
Also, I'd be remiss if I didn't mention that I am a huge Hunter S. Thompson fan, and that Spider shares more than a few traits with him. In fact, though I have not researched it, I'm willing to bet that Ellis based Spider off of him, at least a little. In fact, the whole world feels a little like a Gonzo hallucination, with reality stretched to zany proportions.
Art: The art is quite solid and consistent, which is a miracle seeing how crowded the panels can get. To represent this weird world, every panel is colorful and vibrant, and while it can get a bit busy sometimes, the artist (Darick Robertson, I think) is skilled at keeping it from becoming distracting, and even with all the little things going on, nothing ever feels bland.
Writing: As mentioned above, the characters' personalities match the art. Everyone is interesting and no one allows themselves to be forgotten. One of the reasons this is amazing is that nothing in the comic ever feels like exposition. Without realizing it we are filled in on who Spider Jerusalem is and why he does what he does (as much as can be done in this one chapter anyway).
If I were to have a complaint about the writing though, it would be that it is not for everyone. As I stated before I am a huge HST fan, so an abrasive, foul and violent style of storytelling really doesn't throw me off, but some people might not be able to get into it so easily, especially because it can be a bit eccentric (for example: near the beginning, Spider passes by a Bar he frequented in the last 5 years, reminisces, and then proceeds to fire a rocket at it), and a bit wordy.
Overall: If these small complaints don't bother you, then I highly recommend that you check out Transmetropolitan. It's a unique and interesting story that requires no former knowledge of comics. I hope that the industry does more "sample" comics like this, as it is a great way to get new people like me into the medium, looking at material that we wouldn't of gotten into beforehand.
Hey this is Jordan here, and I am here to introduce this guest reviewer. He is a fan from the Spoony Experiment forums, and when I asked for guest reviewers he was one of the first to submit a review. This is it, and I enjoyed it greatly. It's not often I enjoy other comic book reviewers this much, but I found this be a great review. He doesn't have a website, but if this review goes well I will be sure to bring him back for another review. So sit back and enjoy The Uninitiated Comic Reader Issue #1:  Batman War Crimes written by Danius Kang.
I've always loved stories about superheroes. When I was young, my favorite television shows were the old X-Men cartoon, Batman the Animated Series, the Superman Animated series, Batman Beyond and the like. The more mature over-arching stories and the great action, as well as fantastic art styles really hooked me. As a result, I've always liked the stories and mythologies surrounding superheroes, and at that time I even read a few comics. Few being the imperative word.
I couldn't really afford comics at the time, so eventually I drifted away from the medium. For years, I kept toying with the idea, occasionally picking up a comic or two but never got into it, and still didn't really have the money. But now with libraries carrying more and more trade paperback collections, it seemed like as good a time as any to start trying to read (comics) again, especially with so much interesting-looking stuff out there.
So I went to my nearest library and found a lot more than I bargained for. Overwhelmed by choice, I decided to go with a hero I knew I could trust:  Batman. And I thought I would share my naive experiences, giving a different perspective on the comics than you might be used to (caution:  possible spoilers).
NOTE:  I did not and have still not Wikipediaed (how exactly do you turn that into a verb…Wikied I guess)or researched any of these comics or related stories, characters, etc. This is because I want to preserve the genuine first impressions that I had. As a result, I apologize in advance if I overlook something and look like an idiot.
So, let's get on with it. The first book is:
Batman: War Crimes
Summary:  War Crimes is a hard-bound collection of technically 7 (?) comics (three mini stories that are tangentially related to the four main chapters) that seems to put a cap on the "War" story arc. Apparently, I jumped in at the wrong point here. Looking at the back, it showcases four books preceding it (War Drums, War Games: Outbreak, War Games: Tides, and War Games: Endgame). However, the book kindly uses the first page to fill me in on everything that has happened so far.
Apparently, Stephanie Brown, the Spoiler, wanted to be the new Robin, but Batman said no go, because she wasn't disciplined enough. She goes on to prove him right by enacting one of his hypothetical "War Game" scenarios behind his back, in some attempt to prove herself worthy (this part was pretty esoteric, actually). All this does is allow Black Mask (a villain I wasn't familiar with) to take control of all the gangs, killing Stephanie in the process. During this, Batman apparently made some unpopular decisions (none of which are discussed) causing most of his allies to abandon him.
In addition to this recap, the comic opens with a long scene of Black Mask explaining the current status of the villains of Gotham. I found some of what he says here interesting, but he was really vague about a lot of what he was explaining. So to me, this 18 page spanning conversation would seem really boring to people who are regular readers, and it was just kind of confusing to me. And really, the only important thing said here (at least that is relevant to this book) is that Black Mask had a guy make him a bunch of masks of villains and heroes, and the Joker is missing.
The comic really gets going about the time Batman is being accused of not only the horrors of the previous months, but also tricking children into joining his crusade, and that then turns into Batman being blamed for Stephanie's death. This stems partly from the fact that someone is running around dressed as Batman, acting like a maniac. The Joker reappears with unclear motives (although he turns out to be completely inconsequential), and Batman learns the true identity of Stephanie Brown's killer. I don't want to spoil anymore because despite my complaints this was actually a good read (mostly).
Art: The art fluctuates between each chapter, ranging from mediocre to pretty good. The only real gripe is with the way the Joker is drawn. I've noticed this in a few of the other Batman comics I've read, but artists seem to be in a big disagreement as to how he should look. And he is the only character that seems to fluctuate, chapter by chapter, in this jarring manner. It doesn't help that this is the first panel we see him in.
Wowza. Did the Joker have facial reconstructive surgery and then put on a few pounds? Apparently not, actually, as he looks totally different in the very next panel. I get that this was done to portray depth of field and perspective at a dramatic angle, but it definitely didn't come off as it was intended.
Writing: As stated above, the story is well plotted and doesn't jump around too much after the first quarter of the book. The dialogue is very well written, and is clever without being over the top (not to mention a really good final speech from Batman). But speaking of Batman, this seems to be where the writing has its real flaws, in the form of his characterization.
Now, this might be because I haven't read the previous books and don't know what he's  been through (although throughout the comic they give a good idea of how dire the situation was). But Batman seems to be…enjoying his job a little too much? I know the Dark Knight has, well, moments of darkness, but I kinda thought the whole shtick was that as much as his parent's death motivated him, his crusade isn't about vengeance. But during most of the comic, he seems to relish breaking peoples bones. In fact, he internally monologues several times about how good it feels to beat up some thugs (in this case, however, he admits it shames him to feel that way), and then later he does it again during a fight, commenting how nicely his fist fits into his opponents' guts.
This sort of attitude is also expressed during a fight with Black Mask in which he is incredibly arrogant and even gloats at one point. It just seemed really out of place for someone who is usually as reserved and focused as Batman.
Overall: I really enjoyed this book. It was the first comic I had read in a long while, and it involved one of my favorite heroes. The art got a bit wonky at times, as did Batman's actions in certain situations, but it didn't detract enough to drag the whole story down.
It terms of accessibility, I probably should have researched this a little bit. It wasn't a great jumping on point. However, the inclusion of some tie-in material and the front page recap made it a lot easier on me, so props to DC on that one. Before I could recommend this to anyone, though, I'd have to read through the rest of the arc.
And next time I do this, I think I'll just pick up a single issue and work from there.
Foreword: For the next few weeks I will most likely have guest reviewers on Wednesdays. Today is the first one. His name is Matt Willard, also known as the Helldragon. He reviews video games and nostalgic materials . He approached me on the Spoony Experiment forum (great site by the way) about doing a guest review of a comic. I told him sure, and here it is. To see more from Mr. Willard visit his site over at: http://www.giantrobotinvasion.com/ Now sit back and enjoy Mr. Willard's review of Nights Into Dreams #1.
Back in the 90s, Sonic the Hedgehog was so popular that Archie Comics created a comic book series based on the character.  And despite the franchise's…well, recent problems, Sonic's comic book is still going strong.  In fact, it's recognized by the Guinness Book of World Records as the longest running comic book series based on a video game.  (Well, the Gamer Edition, at least, but that's as respectable as the actual thing…right?)
So it'd make sense that Archie would try the same thing again with another Sega game.  This time, they decided to adapt a little Sega Saturn game called Nights Into Dreams.  Looking back, this probably wasn't the wisest idea.  I mean, the game's a cult classic, but it never really caught on like Sonic did.  I understand the mentality, though.  A nice little comic book series can get you some pretty good benefits.  The problem is that I don't know any girl with lips big enough to ride Nights' horns.
So Archie released two miniseries to see if a Nights comic would sell.  Did it work?  Well, I'm going to bitch about them on the Internet, do YOU think I have anything positive to say?
But even though both miniseries are terrible, I wanted to talk about the second one in particular.  Why?  Well, don't get me wrong, the first miniseries is bad, but compared to the SECOND one…oh ho, BOY.  The second miniseries is amazing because somehow it manages to take everything that was bad about the first miniseries and make it EVEN WORSE.  It's like if you stepped on a rusty nail and I said, "Hey, I'll help you fix that, I just need to stick a dozen more needles into your face so the pain will magically go away".
Personally, I don't see how making a concept suck even more is a good idea when you want to create interest for an ongoing comic book.  But that's how Archie went about it.  I mean, there's no way in hell this shit was accidental.  Maybe the guys in charge felt like defying God's word, but they figured dancing around a golden giraffe was a bit too obvious.
So that's what we're going to focus on here.  You want a reason why Nights never got its own ongoing monthly?  Well, let's find out.
Fortunately, if you haven't read the first miniseries-
-No, do not stop reading this and look it up, trust me on this one-
-the first page gives a short summary of what's gone on before.  Basically, there's these two teenagers named Elliot and Claris, who both have a special kind of dream energy.  The EVIL lord of nightmares, called Wizeman, wants their energy for himself so he can merge the real world with the world of dreams.  Personally, I think that could be a problem.  I mean, it's hard enough paying Cubans for cheap labor, we don't need nightmare monsters taking our jobs too.
Anyway, Wizeman eventually gets taken down by Nights, one of Wizeman's former minions.  But the fight drains most of Nights' power, and in order to save him, Elliot and Claris give up their own dream energy.  The last issue of the first series lets us see that Nights turns real because of it.  Nights, let me be the first to congraulate you on becoming real, but remember-if you're unable to pay for Social Security, then I just can't let you in America.  It's only fair.
Hold on, Patrick Spaziante worked on this piece of shit?  What the hell was he thinking?  Oh well.  I guess every good artist needs some blemish on their career at one point or another.  It's like that with the entire comic book industry, except their blemish is called Rob Liefield.
Anyway, the comic starts off with Elliot and Claris mentally GUSHING about what happened in the first miniseries.  And I mean it-it's written like they're explaining it to someone else, but they're actually just thinking about it while they're alone.  Is that the cool thing now?  Do you kids drop exposition while you're doing stuff?  "'Yo yo yo I'm gonna pop a cap in your ass!' Strike Master G said as he slung out his silver .45 and pointed that long, cherished barrel at the fool that dare question his biz-ness!"
God I'm like Casper, I'm so white.
So Claris opens the door to greet Elliot and-
-okay, I'm just gonna pause right here.  This is officially your first warning, guys.  I warned you how bad this artwork was, and this whole review's gonna be fraught with the stuff.  And you know what?  This is as good as it gets.  From here on out, it's actually all downhill.
Look, this is gonna be hard for you, so you might want to take something before we continue.  Here, lemme give you some medicine.
No no no, you can't have that medicine unless you have a note from your doctor.
Anyway, it turns out that it was all just a nightmare thrown at the teens by Reala, Wizeman's other minion who got promoted to lord of nightmares after Wizeman bought the farm.  Reala dumps even more backstory on us and says that, after his rival Nights got revived, he hasn't been able to find him.  Look, I know how comic books work.  You ask where Nights is, and because of the way it's set up, I'll turn the page and find out that-
-AHHHHH okay, that is just some horrible perspective.  Look at this-it looks like Nights has a torso that rivals Duke Nukem.  Even worse are his really thin legs which look strong enough to support water skimmers.  The only way this picture looks accurate is if you hold it upside down.  Underneath water.  While jumping through a Stargate.
So now that Nights is real, he decides that the first thing to do is scare the shit out of a bunch of skydivers.  This scares out one of the divers so much that he fails to pull his parachute and somehow starts falling to the ground EVEN FASTER.
Look, I've never skydived before, but I'm pretty sure gravity doesn't pick someone out when it feels like being mean.  Gravity isn't in the background going, "So, white man thinks he can jump, eh?  Let's see how white man can FALL!  AH HAHAHAHA!"
Nights thinks that the falling guy is trying to "win the race to the ground", so he flies down to stop him, where he-
Um, I'm sorry, but, um…who the fuck are you?  Why is the comic showing me your thoughts?  Are you suddenly an important character?  You don't show up at any point after this scene, so why are they letting you put in your two cents?  Besides, your opinion doesn't even matter-Nights just pulls the guy's chute anyway, so in the end, your thoughts had absolutely no bearing on the storyline whatsoever.  Also, everyone hates you, Fluffy never actually ran away, and Archie isn't your real father.
Also I'm going to shoot you.
…ah, shit, I was supposed to say that first, wasn't I?
Anyway, Elliot and Claris try to get through their school day, but they're having a hard time staying awake.  Somehow this ENRAGES the adults, who sit the kids down for a good, one-sided bitch session.  But it doesn't really work-they just end up saying "blah blah blah" over and over like a Pokemon.  I guess that's what happens when you hire teachers from Blahbania…you can never understand their accent.
We switch back over to a place called the Twin Seeds Tower, where a group of terrorists are holed up inside.  Apparently the guy who owns the building did something evil or something like that, and these guys want to-
-hold on.  'Agents of R.E.M."?  Oh, that's low, comic.  Really low.  In this comic, in particular, I should've seen that reference coming a mile way.  Then again, when I think about it, it doesn't really make sense.  I mean, these terrorists don't even have instruments.
Anyway, before the terrorists can say what they want, Nights suddenly breaks through the roof like he got tossed out of Con Air.  But one of the terrorists pulls his gun on Nights and says, "Make a move, clown boy, and I'll give you a bellyful of blast!"
Okay, Van Damme, you're not allowed to talk anymore.  And we're gonna keep it that way until you can learn how to say things that aren't completely fucking stupid, okay?
Anyway, the guy fires his gun, but Nights just eats the "blast" and shoots it back at the terrorists.  Then the  cops come in, and when Nights flies away, one of them says, "You see that, Joe?"
"What, Charley?  That strange flyin' guy up there?  I'd look, but I'm too busy admiring this little page number right here.  HEHEHE!  He's so tiny."
Back at Elliot's school, the coach is STILL bitching when Elliot suddenly gets a vision of Nights running away from the cops.  So Elliot goes to the rescue, and at Claris's school-
Oh my God, are you STILL going?  Come on, man.  Does it REALLY matter if she was sleeping in a locker?  Because, you know, that's why some high schools keep cops on campus, right?  Because locker-sleeping is so "dangerous"?
Anyway, Claris gets the same vision of Nights in trouble, and once again, the comic decides I need to know what the principal is thinking, even though he NEVER shows up again during this series.  Eh, whatever.  So Claris also goes to help, and-
Okay, you know what?  This is just atrocious.  Nobody walks like this.  The body is way too bent out of shape and the proportions are hideous.  The only way people would strike this pose in real life is if they were acting out a scene from Saturday Night Fever…and got punched for it.
Personally, I like how the adults are so busy complaining that they don't even try to stop their students from running off.  "Look, I like to chase girls as much as the next guy, but when they hit twelve I'm just not interested anymore."
Anyway, Nights is running away from the cops.  Wait a minute-he was flying a minute earlier, why'd he stop?  Well, it turns out that since he's real now, he actually gotten scared of flying.  And you know, Nights, I can sympathize with you.  I remember when I got scared of flying.  During my first flight in an airplane, I was so afraid of crashing that I didn't know how I was ever going to get on a plane again.
But you know what I did?  I got up, I took a deep breath…and I never got on an airplane again.  That's why my trip to Arizona turned out to be one-way.  I hope that helps you.
So the cops are being lead by this lady with this huge ass set of teeth.  Now, this actually isn't another random background person.  This was probably supposed to be a major supporting character, because they show her throughout the rest of the miniseries.  I guess Archie was trying to build up a bigger cast in case they ever went through with a monthly comic.  All right, fair enough.  So what's her name?
Lieutenant Lucy O'Lawful.  Oh, gee, that was especially clever of you.  What's the name of her favorite movie, Robot Joxer?
So Lieutenant Xena and the other cops lose Nights in a group of mimes, and-w-wait wait wait, hold on.
Mach Five?  The BATMOBILE?  You really had the nerve to put stuff from better franchises in your shitty comic, didn't you, Archie?  What's next, is Nights going to drive away in Optimus Prime?
…actually, that might be what this comic needs.
Anyway, Nights is moving with the crowd of mimes when his stomach suddenly goes off in hunger, although judging by the artwork it looks like he's caught in a teleporter accident.  He runs into another alleyway and finds out that all of his energy is being drained, and…
…okay, I have no idea what he's doing here.  Is this how dream creatures check their energy, they look at their pilot light or something?
Meanwhile, Elliot and Claris have joined forces and they ask a couple of mimes about Nights.
Oh, that's helpful.  That's like if I put up posters for a missing dog and describe it as "sorta looks like the Taco Bell dog.  May or may not speak Spanish."
But before Elliot and Claris can use their amazing detective skills to find Nights, some random ass cop comes in out of nowhere and chucks them in a squad car for skipping school.
Blah blah blah blah blah shut the hell up.  First off, how the hell do you know they're skipping school?  Did their teachers call it in?  If so, why didn't the comic show us that?  Was that not important enough?  They showed us what a random skydiver was thinking, you'd think the comic would fall on its face trying to show us some actual plot development.
Secondly, don't you have bigger priorities right now?  Like investigating the building wtih terrorists?  Or maybe catching the freakish mine creature running around the city?  Or arresting some ACTUAL CRIMINALS-are you getting any of this?
But no, it's okay.  Arrest the truants.  And don't worry about other teenagers running around buying their first hit of heroin from the city drug dealer.  I mean, sure, they'll take it once, but they won't come back a second time, right?  Right?
But just then, Elliot and Claris spot something in the distance.  Who could it be?  Gasp!  It's Nights!  But who's helping him?  Only the dastardly force that is…ROGER!
…wait, who the hell is Roger?
Oh, wait, I remember.  See, in the first miniseries, whenever Elliot and Claris entered the dream world, they could fuse together with Nights.  Why?  I don't know.  Maybe Nights wanted to be one of those Russian dolls that stack up in each other.
But the thing is that since Reala's just a recolor of Nights, Wizeman got a bully named Roger to be Reala's dream partner, and this means that Reala can also use Roger's body in the real world.  The illusion is airtight.  No one suspects that Reala is controlling Roger's body, mostly because Reala fails Biology exams as much as Roger does.
Anyway, that's basically how the issue ends, and with Elliot and Claris being hauled away by the cops, can they escape and help Nights before it's too late?  I don't know, but if he dies, they'll have to call the comic "Into Dreams", and that sounds like something that plays Sunday afternoon on PBS.
Tune in next time for issue 2 of Nights Into Dreams, miniseries 2!  And remember-if you think you're ready for it, you're actually not.
Images from: http://nightsintodreams.com/
Matt's website: http://www.giantrobotinvasion.com/
If you want to be a guest reviewer for CBO Productions, contact us at comicbookoverkill@gmail.com

Yeah, I apologize in advance for this being in a text format. I just didn't want anyone to suffer through bad quality video.
Kicking things off,
Green Lantern #45: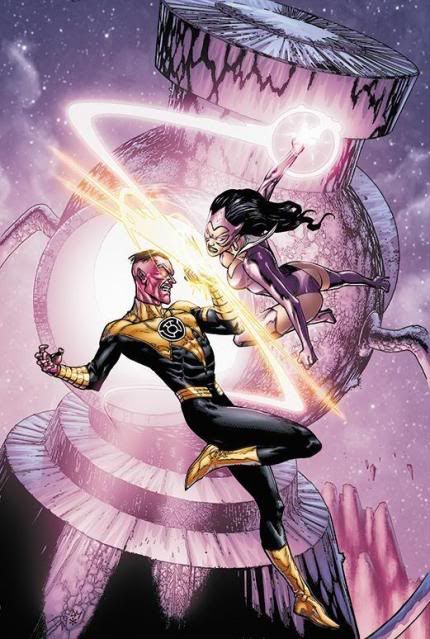 Credits:
Writer: Geoff Johns
Pencils: Doug Mahnke
Inks: Christian Alamy, Doug Mahnke, & Tom Nguyen
Color: Randy Mayor
First off, I enjoyed the cover. It promises things to come and isn't really too busy.  To me a cover is something that is meant to grab the buyer and showcase what is inside the comic. This cover does such a thing, and I like that. Now to the actual meat of the book. The story takes place all over the universe showing different sides of the War Of Light and the beginning of the Blackest Night. Remember: despite being almost 3 months into the story we are only about an hour into the event in comic time. This is why we are still seeing black rings being spread across the universe and the War of Light raging. That means there are not as many Black Lantern fights in this comic as in other Blackest Night tie-ins, but instead, the book focuses on Sinestro leading a group of his men to save his lanterns that were captured by the Star Sapphires.  Sinestro is confronted by Carrol Ferris, who does a decent job defending the Star Sapphire home world of Zamaran from the universe's most dangerous Lantern.
Like I said, the book focuses on their conflict the most, but it does show some other sections of the universe under attack from the Black Rings themselves. Such incidents are much like the Orange Lantern's, Larfleeze's, own cave being swarmed by the Black Rings. This resurrects all of those who have fallen at the Orange Lantern's hand. This leaves Larfleeze in a sticky predicament. Other incidents include Abin Sur (with a gang of Black Lanterns) interrupting Sinestro's and Star Sapphire's fight and Ysmalt, the home of the Red Lanterns, being assaulted by several rings. Overall, the writing was great for this issue. The dialogue flowed well, and the action was paced superbly.
The art is on a grand scale, like always. It manages to include a great deal of characters in each panel and at great detail. This has become a staple of the Green Lantern series, and I love that. It suits the titles because of sheer size of the cast.
In the end, I tell everyone to BUY this book. It is just solid.
Next we have Dark Avengers #8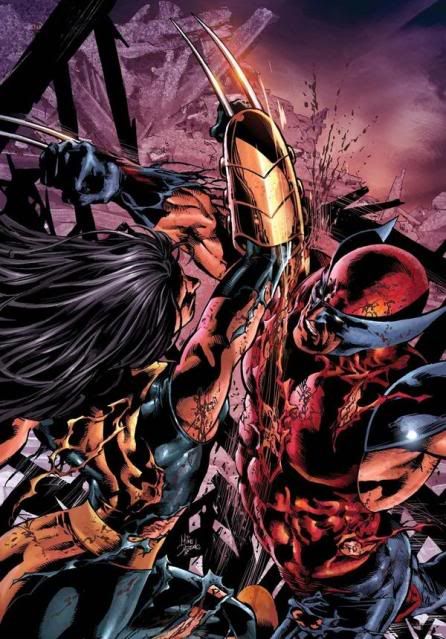 Credits:
Writer: Matt Fraction
Pencils: Luke Ross
Ink: Rick Magyar, Mark Pennington, & Luke Ross
Colors: Dean White
The cover for this book is alright. It is really confusing as towhat is going on though. It has Daken and X-23 taking swipes at each other. It is just too close to get a clear image of what is freaking going on. It doesn't help that the cover is framed by the Utopia Banner. It irritates me to no end how bad this cover looks.
Moving on to the actual comic itself, it is just bland. This event has disappointed me. Utopia #1 was an amazing one shot and Chapter 2 and 3 were equally great. Ever since Chapter 4, though, the book has been just forgettable. Nothing stands out in the past two issues. This comic does end on a pretty high note and makes a big reveal which might change the dichotomy of the X-titles for a year, but to see it in such a bland book infuriates me. The writing is a big "meh". Fraction seems to keep getting Weapon Omega's personality wrong, which is a shame. There has been zero focus on Mimic, who is the most interesting Dark X-man, and the book overlooks what was the original threat, the Bio-sentinels.
For some reason the main villain in the series is ignored and is essentially a foot note. It is a great idea using Bio-sentinels, but Fraction doesn't want to talk about them. Instead, he focuses on the contrived and bland Dark X-men team and the unsurprising triple cross that occurs. We see more of the Dark X-men than any of the other cast members, and yet we learn nothing about them other than they are at odds with the Dark Avengers. With such a focus on the Dark X-men, there was no need for Dark X-men the Beginning mini series. We should have been granted some back story of the team in the book. I actually would rather read about the Dark Avengers, and I hate that team. At least they have some conflict and tension rather than the nothingness that is presented by the Dark X-men. This has been the worst thing I have read by Matt Fraction, and I regret hyping this series. I hope the conclusion saves the series.
I am going to take a brief moment to talk about the art. It sucks. It looks murky and is just ugly to look at. The lines are too bold and whenever there is a close up to a character's face, it is just embarrassing.
Overall, I am telling you to Pass on this book. There is nothing big in it worth reading. Only things to mention are Asteroid M and Moonstar is going to be a Valkyrie again. That is all you need to know.
Next up
Blackest Night Titans #1: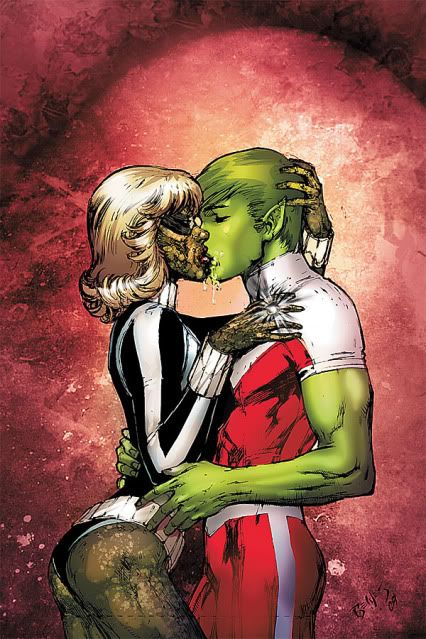 Credits:
Writer: J.T. Krul
Pencils: Ed Benes
Inks: Rob Hunter, Jon Sibal, & JP Mayer
Colors: Hi-fi Design
The cover for this book is just freaky and a little sickening. It properly describes this book. There are some scenes in here that actually weirded me out a bit, and I liked it.
Truthfully, the comic itself is pretty damn good. The writing is superb. We see the characters mourning their fallen comrades as they were in Blackest Night #1. The book focuses, in part, on Terra. If you don't know who Terra is, she is basically a Traitor to the Titans, but still has a statue in Titans Tower alongside the fallen.  Starfire questions why there is still a statue dedicated to her if her brother knows the truth. While we are never given a clear answer, it seems to be there due to Beast Boy wanting to remember her as a hero. Just like the rest of the Blackest Night stories, the dead rise from the graves to feed. Terra is no exception. Instead of looking like a zombie, however, she is in a normal appearance. Garth sees her and, after a brief discussion, begins to kiss her, only to find out that she is still dead and a Black Lantern.  This freaks out Garth, and the plot thread ends there.
The book then shifts to the other plot thread featuring Hawk and Dove. We see them bickering about the previous Hawk and over trivial things. This continues until they are attacked by the Black Lantern Hawk. The fight rages on most of the issue and is actually split up by the Terra plot thread. It is a great example of breaking up the action and building intensity. This is probably the first Blackest Night tie-in that I have read to actually feel like a Zombie movie. It is fantastic.
The art also helps the mood. Benes makes great use of dark environment and fog to set the mood. Despite Dove's mask looking silly, the art is pretty good overall. Well-done action scenes and a surprising use of nontraditional panel work on some pages makes this book a buy. I do have to note that Starfire is actually a little thick looking, which isn't bad at all. It actually makes her appear to be a normal person. I felt the need of pointing this out because you usually see Starfire drawn with a sleek hourglass figure with a tiny waist. She actually looks like what a normal woman would look like. I applaud that.
Overall I say BUY this book. You don't have to be a Titan fan to appreciate this title.
Next on the docket is:
Batman and Robin #3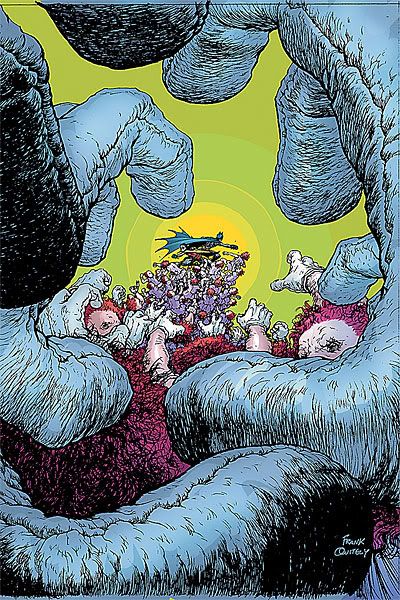 Credits:
Writer: Grant Morrison
Artist: Frank Quitely
Colorist: Alex Sinclair
The cover does not fully capture what is inside this book. It is still a great cover nonetheless. We have Batman and Robin in the distance fighting a sea of those creepy human dolls. I liked the coloring on the cover. Great break from the dark Black and Red covers.
Now the actual comic. Sweet Christmas  this book is fricking weird! I know Grant Morrison is a strange man, but damn. This book just weirded me out to no end. The main reason is Professor Pyg. That guy gives the Joker a run for his money. He is just messed up in the head and does some sick things. He is also wearing a pig mask, and we don't ever see his face. Just that infernal pig mask. That character is going to haunt my dreams for the next week. It is plain disturbing. Another reason is Quitely does such an impressive job on the human doll mask it looks painful to wear.  There is this little girl with one stuck on her face, and it freaks me the heck out. There is a myriad of creepy things going on in this book; I could sit here all day listing them. However, I should talk about the actual writing rather than the feeling I had reading this book.
The writing is Grant Morrison folks. Take it that he is a little more in check, but you should know what he does. If you don't let me tell you (people who don't care scroll a little below). Grant Morrison is really eccentric. His writing style tends to pace the action much like how it would in real life.  His dialogue can be either direct or cryptic.  This depends greatly on the cast of characters. He can get into some serious metaphysical material and make you think about life itself. He is a great writer but tends to be polarizing. That is what you expect in every Grant Morrison comic.
The art is just beautiful. I love Frank Quitely's work, and here is no exception. He draws Professor Pyg with unique mannerisms and actions that tell you a lot about the character, without actually reading the dialogue balloons. To me that is a sign of great art. If you can tell a story without words, you have perfected sequential art.
Overall, the comic is a great comic and a strong BUY. It was a fun ride.
Forget the segues.
Batman: The Widening Gyre #1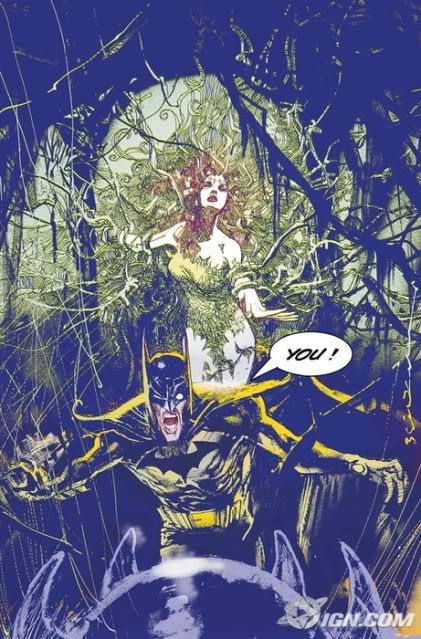 Credits:
Writer: Kevin Smith
Artist: Walt Flanagan
Inker: Art Thibert
Colorist: Art Lyon
This isn't the cover I bought. I bought this crazy cover that would make a Christian faint with a pentagram and wolves. The cover above I find to be better. The art style is nice. The colors add depth to the cover, and the use of green in the cover accents the use of dark tones. Just a great cover.
Now the comic. The story starts off with Batman and Robin (Bruce and Dick, by the way) busting Baron Blitzkrieg and the Atomic Skull's attack on a Jewish Temple.  This part is very campy and silver age Batman. The team busts the Baron, and Robin is the one to land the knockout blow. He takes pride in this. The story then flash forwards a few years to Batman and Nightwing stopping some skin-heads from building what they believe to be a bomb. It turns out to be the Baron's armor, and Batman swiftly defeats him. Dick takes Batman to the morgue to show him a man that died from what appears to be an attack by Poison Ivy. Batman leaves Blüdhaven and heads to the batcave before going to Arkham Asylum to confront Ivy. He switches from the boat to the car and heads to the loony bin. On his way there, the vegetation gets thicker and thicker till he reaches his destination.
Batman enters the building to find the inmates still in their cells or tangled up.  He smells the increased pheromones in the air as Ivy is emitting them. Bruce confronts Ivy finally but is attacked by Killer Croc who is high on the pheromones and is being aggressive towards Batman. Bruce defeats Croc but is captured by Ivy, who then tries to have relations with him. They are interrupted by Etirgan who wants Ivy dead. They try to fend them off but are saved by a new hero.
Alright, I will put this out there. I didn't like this book. I am a Kevin Smith fan, and I did NOT like this book. It felt silly and just wrong. Smith put his usual spin on the dialogue, which wasn't bad, but he used this inner monologue that became annoying fast. He started saying stuff that isn't very Batman like. The writing isn't necessarily bad but  just irritating and uncharacteristic of Batman.
The art was great though. They did some unique frame work on the panels once they entered into Ivy's fortress. There were some moments that the facial expressions were goofy, but that wasn't too bad. Overall, I liked it.
In the end, Batman: The Widening Gyre isn't bad, but I didn't like it. I can't recommend a solid buy, but I can recommend that you Skim through it at the shop. Skim through the book and read some of the dialogue. Judge for yourself if you will like it.
Detective Comics #856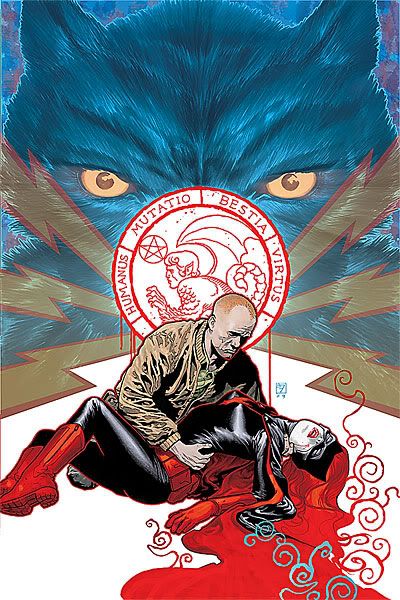 Credits:
Writer: Greg Rucka
Artist: JH Williams
Colorist: Dave Stewart
This cover is just amazing! Actually, the past few issues of this comic have had great covers. This is a perfect example of the interior artwork. Well-done cover.
Now for the actual book, Rucka does a fantastic job on writing Kate (Batwoman) as a strong character. Many writers would have taken the fact she is a lesbian and drove it into the ground. Rucka makes it more subtle. She is a normal person who just happens to be a lesbian and fight crime dressed as a bat. This issue we learn more about Kate's social life after surviving being drugged by Alice. The main bulk of the story is actually about the charity auction that Kate has to attend. There she meets a girl, and they dance. They share some of their life story before she is pulled away by a true believer in the Crime Bible. Kate learns that her father, the Commanding officer at a military base, is at risk, and we end the issue with Alice being taken to Kate's Dad's base.
I loved the writing in this comic. The interactions seem natural and not forced. Everything is subtle and not BOOM! in your face. It is a well done comic and the best of the Bat titles out right now. That is saying something.
I couldn't end this review without mentioning the art . While this issue's art is more tame and mainstream, it still looks amazing. Williams' pencils are complemented by Stewart's amazing color work. If you are looking for a reason to buy the Batwoman run on Detective Comics, this is it. The art alone makes this book amazing, but the writing just sweetens the deal.
Bottom line: Buy! this comic. It is one of the week's best and worth every penny.
Booster Gold #23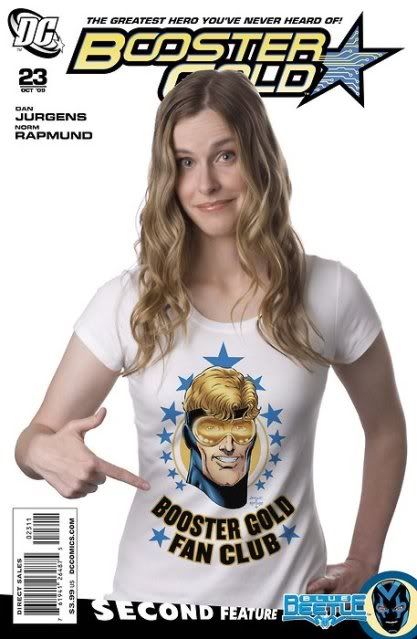 Credit:
Writer/Artist: Dan Jurgens
Finished Inks: Norm Rapmund
Colorist: HI-FI
There are some people that don't like this cover because it is a photo cover. Well, photo covers tend to be lame and can ruin a good book, though this one isn't too bad. It's not like some random screen shot from a tv show; it's an actual posed picture. The main reason for having Blair Butler (awesome lady by the way) wear this shirt is to promote a new product that is coming out. I might buy the shirt, so the cover succeeds in accomplishing its goal. The only drawback with the cover is the shirt, while featured in the comic, is only shown once. I liked this cover.
Getting to the actual book, it's not bad. I haven't read Booster Gold since issue 1 (not by choice by the way), so I was lost. The book though did a great job in keeping me in, and I figured things out pretty fast. So well done, Jurgens. I was successfully captivated mid-storyline. The writing is pretty damn good. Booster is, well, Booster Gold. He is arrogant and cocky. Though he has matured since 52. The story is pretty gosh darn good as well. It is basically the Black Beetle screwing up the time stream, allowing Trigon to take over. Pretty cool story and very Marvel "What If".
Now the art is equally fun. The only real complaint I have is Trigon. He doesn't look very evil, just a disgruntled red man with moose antlers. Other than that I can't complain about the art, though there isn't much of a background as it is a post-apocalyptic world, and it's never sunny.
I give this a solid BUY; the book is fun and enjoyable for everyone. I had no trouble getting into the story despite not having read the past two installments. You just have to know who Booster Gold and Rip Hunter are, and you will be set.
Dark X-men: The Beginning #3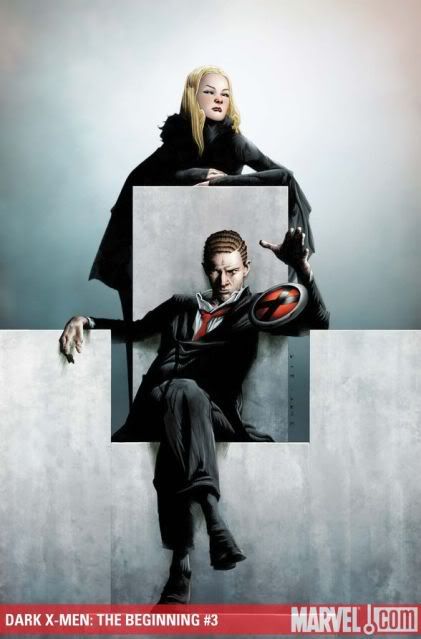 Credits:
Hidden Depths:
Writer: Paul Cornell
Artist: Leonard Kirk
Colorist: Brian Reber
Get Mystique (Slight Return):
Writer: Jason Aaron
Artist: Jock
Colorist: Dave Stewart
The One Who Got Away:
Writer: Simon Spurrier
Artist: Paul Davidson
Colorist: Rain Berredo
The covers for the Dark X-men: The Beginning mini series have been great. Each and every one I have loved. I even got the first cover as a poster. Not much to say, but I just love the attitude that Emma Frost and Norman Osborn seem to be carrying.
The comic itself is an anthology comic. I have disliked the series so far (except for a couple stories) because it has either been really bad or just pointless. This issue turns things around. Each of the stories are strong stories. Here is a brief plot synopsis on each story. Hidden Depths is basically Emma and Namor exploring his mind trying to figure out why he joined the team. Great story and nice to see Namor's softer side. Get Mystique (Slight Return) explains why Mystique is still alive (considering she was left for dead by Wolverine in Get mystique last year) and why she joined Norman. Not the best story out of the bunch, but it is nice to get some explanation. The One Who Got Away is about how Aurora avoided joining the team. She beats up Norman Osborn at the end. Not the best writing, but I loved every panel of it.
The art for each story is different. The best art is in Get Mystique (Slight Return); too bad I don't much about Jock, but he is a great artist. Dave Stewart's colors make it even better. I don't typically follow colorists, but Stewart's work keeps popping up and impressing me. The rest of the art is not too bad either. It is better than the past two issues of this comic.
Final judgment is to BUY this comic. The title is an anthology series, so the previous two issues are not necessary. The stories presented in this comic either add depth to the characters or are just a fun read. Most people should enjoy it.
Fantastic Four #570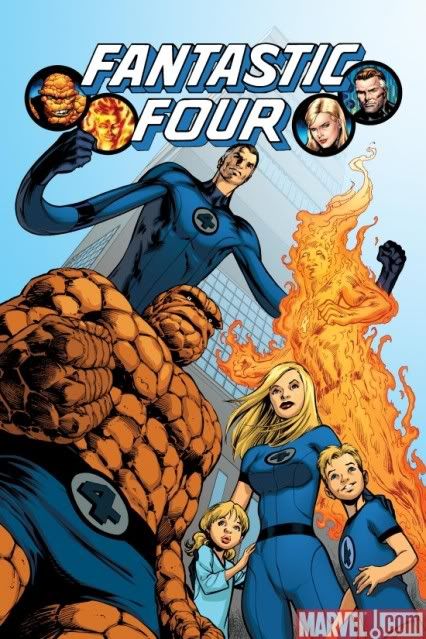 Credits:
Writer: Jonathan Hickman
Artist: Dale Eaglesham
Colorist: Paul Mounts
This cover is not too bad. It has the full cast of of the Fantastic family. It has a new masthead for the series which is simple and effective. Now here are its flaws. Ben's eyes look odd and in the print version aren't blue. Also, what is going on with Valarie's lips? She looks like a mini-Angelina Jolie with those massive lips. The characters have bland facial expressions, and the pose is a generic cookie cutter pose. Still, it isn't a bad cover and there have been far worse Fantastic Four covers. At least they have returned the Masthead to the freaking top of the comic.
Now the comic is meant to be a jumping on point after the year or so stint Millar had on the title, and it does its job well. It keeps the additions Millar made to the franchise, which is nice. At least it doesn't truly retcon the whole Millar Run, but it is definitely a different tone compared to Millar's. Enough with the comparisons and on to the actual comic itself. The plot is basically Reed coming to terms with the fact that he can't answer everything, but he tries. In doing so he opens a dimensional gate in which more Alternate Reed Richards come out and take him to a nexus point (somewhat like the Mighty Avengers Mansion) where Main Reed meets the rest of the Reed League.  The Reed League (unofficial title by the way) is a large group of Reed Richards that put their minds together to prevent disasters and problems. It is lead by Three Reeds that all posses an Infinity Gauntlet.  Overall, a very sci-fi story, and I enjoyed it. This might put some people off though.
The art for this book is sufficient. Eaglesham appears to have difficulty showing different facial expressions. Almost all the characters keep the same one throughout the book, and the moments where it changes don't look right to the eye. I do like the new more buff look to Reed. Other than that the art is just passable. Hopefully it will improve as the run continues.
Overall, I give this a Skim through it at the shop. The lack of facial expression will turn people away as will the sci-fi story. I suggest reading a couple of the middle pages and decide from there. I hope this run goes well as I want a good Fantastic Four series.
The Incredible Hercules #133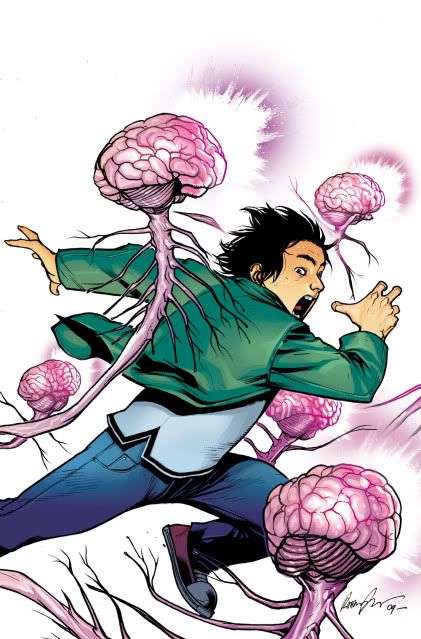 Credits:
Story: Fred Van Lente & Greg Pak
Art: Rodney Buchemi
Colors: Emily Warren
The cover for this particular issue is great. It does everything right. The fact there are floating brains on the cover makes you want to at least thumb through it.
The comic itself tells the story of Amadeus Cho as he investigates the death of his family and tries to find his sister. He enters Excello, a city where the soap company named Cho the 7th smartest person in the world, looking for answers. On his way to the city he recaps on past events by comparing them to a book on Mythology. Once he arrives in the city he notices something isn't right, and he runs into the agent that warned him that his house was going to explode. Turns out things are not as they appear, and Cho must find a way out of town where Math is not the same.
The writing was great. The bulk of the story is in Internal Monologue and text from the mythology book. Cho carries himself like a rebellious teenager and not really a "know it all". He is a unique character whose mind gives him a superpower.  This makes his stories a lot more than they should be.
The art is nice. The artist can illustrate a myriad of facial expressions and poses. This makes each page a blast to just look at, let alone read.
Overall, the comic is a fun read. I give it a solid BUY. It would function as a great jumping on point as it recaps the last 2 years of the Incredible Hercules in the first few pages.
The Pick of the week is:
X-men Forever #6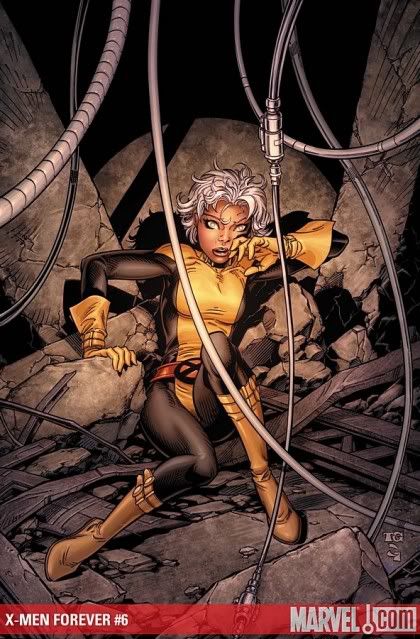 Credits:
Writer: Chris Claremont
Artist: Paul Smith
Inker: Terry Austin
Colorist: Moose Baumann
The covers for this series have been very reminiscent of the covers from the 90′s. A simple picture of something that happens in the comic and a random piece of Text that would lure you in. I hate that Marvel.com doesn't include the text on their previews but oh well. This is a nice cover for a series that is a throwback.
The story follows young Storm (Don't ask as we don't know yet) as she tries to use her powers and watches as the others clean up from the last story arc. It's a nice simple issue with not much going on but still advances the plot.
The writing is Claremont at his finest. It felt just like reading the first few years of his run on X-men. It is much better then Issue 3 and 4 of this series. Claremont is keeping himself in check and not making any major changes to this big what if. He also continues making Kitty a strong female lead and I like that. It is nice to see the character given a bigger part. Overall the writing is fantastic
The Art. Well, its hit and miss. Some things look great but there are a couple panels where the features of the character don't seem right. The major turn off of this issue is the art. It is a little cartoony, and some people don't like the cartoony style of art in their superhero books. Other than that, not much to complain about.
Overall, I recommend a BUY. It is the pick of the week solely for the writing. Claremont has stepped up and seems to be in his old groove. It is refreshing to read and a blast. Also, in this issue the Claremont style of the characters pointing out what the art says isn't really that prevalent here, but if you continue to buy the series expect it to show up now and then. The issue also serves as an excellent jumping on point for the series.
Thanks for reading. Have a great weekend and check the site out on Sunday for an announcement concerning the next "In Defense Of"
This article was originally titled Adjectiveless Comic Review: X-force #1, but was renamed to fit the series that it was more suited towards.
Well today is another big day for celebration here at CBO Productions. We turned a month old yesterday . I know this may not seem important to most people, but a lot has happened in this past month. We went from a small, inconsistent readership to a medium-sized, steady daily readership, we had an article win Awesome Blog of the Week over at TGWTG.com, and we added a new member to the staff here at CBO Productions. I will talk more about him later, but all you need to know is that he is more behind the scenes and will be posting content sometime in the future.
Enough of that. I am not here today to talk about the workings of CBO Production, I am here today to review a comic that you can probably find in any shop that sells back issues. That comic is X-force Vol. 1 #1
Credits:
Written By: Fabian Nicieza & Rob Liefeld
Pencils & Ink By: Rob Liefeld
Letters By: Chris Eliopoulos
Color By: Brad Vancata
Editors: Bob Harras
Editor-in-chief: Tom DeFalco
I was saving this comic for another review series, but we have been a site for over a month and yet to post a Adjectiveless Comic Review. The name is in the header after all. So in honor of the 1 month anniversary I busted it out of its plastic wrapping. I guess I should explain that real quick.  Back during the 90′s almost every major first issue of a comic that might be big was wrapped in plastic and called a "collector's item".
This led to the increase in speculation of the value of comics and more people buying them as an investment. Unfortunately, this led to the collapse of the comic book industry in the late 90′s. There is more to this story, but that is for another day. We are reviewing a comic that started a long franchise and introduced major characters in the X-men universe.
Let's start this review by examining the cover.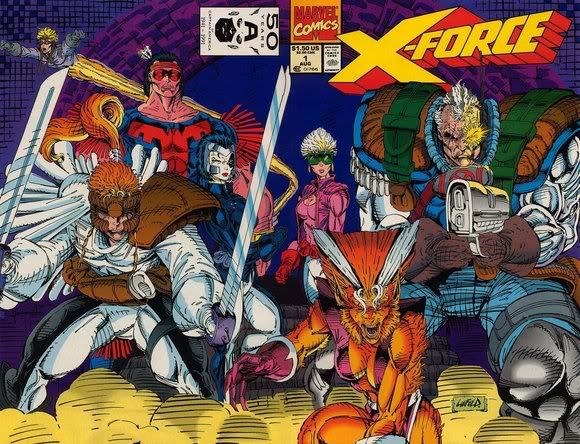 We are given this simple wrap around cover.  I admit wrap around's are a great idea in principle. Expand the size of the cover to allow more art. Problem here is that the art is bland at best. As you can see by the signature on the cover, this cover was illustrated by Rob Liefeld. His trademark art style is all over this cover. Bulging muscles, shoulder pads, disproportionate appendages, squinty eyes, and pouches abound. My God the pouches. Cable has 3, Boom Boom (the girl in pink) has 3, Shatterstar (man in white) has 4 and what seems to be a super pouch across his waist, and Domino has 3 visible. Another thing that sticks out is the weird headgear on Domino and Shatterstar. At first I figured Shatterstar's must be from the Mojoverse (his home dimension), but Longshot (another Mojoverse character) doesn't have such head gear.
So why does Shatterstar wear such a pointless article of clothing? At least Domino's seems to be for function as it has a head set. Shatterstar's just looks silly. I guess at the time it was meant to look cool, but either it looked silly then or didn't age well.  Speaking of poorly aged characters look closer at Boom Boom. She looks like some random punk rock chick. The big sunglasses and hair that can only be seen in an Aqua-net commercial.  I know this comic was written in 1991, but dang don't ever make a character design that immediately dates your character. I could write pages just about how silly everyone looks on this cover, but I won't. We would be here all day if I did, and I best be moving on to the actual comic itself.
Now a bad cover can be saved by a great book, but this isn't the case with X-force #1. The book is mediocre at best. Here is the entire plot synopsis:
Cable and the rest of X-force attack the Mutant Liberation Front headquarters in Antarctica for no real reason other than to stop them and their leader, Stryfe. They battle the MLF's henchmen and beat them firmly into the ground. Stryfe  notices defeat is looming and proceeds to blow up his own base. Cable tries to chase down the MLF leader, but Stryfe teleports away with the rest of the MLF goons before the hero can catch him. Meanwhile in a separate, unrelated plot, two characters, Gideon and Sunspot, are talking about the thrilling world of business. We learn they are going to buy out a company. Then the story jumps back over to Plot A with Commander Bridge and his group of SHIELD agents looking over the wreckage of the MLF  base explosion. Bridge identifies Cable's weapon among the wreckage and alerts SHIELD HQ of Cable's actions and the threat he poses to the world.
The story location jumps to X-force's HQ in a former Sentinel base. Cable acts mysterious and reveals only a small part of his back story to Cannonball. After Cannonball leaves, Domino walks in and catches Cable using his telekinetic powers. Domino warns Cable about using his powers in the open and tells him to be more discreet with his past. The story then jumps back over to Plot B, with Sunspot and Gideon, as they are going to the meeting to buy out the company discussed earlier. The owner of the company brings in her muscle, Tom Cassidy, to prevent the buy out. The comic ends plot B with a cliffhanger as Cassidy announces that he is holding Sunspot and Gideon hostage for "Scads of Money". The comic jumps one last time over to plot A as Commander Bridge tells Colonel Fury about the situation with Cable. Fury orders Bridge to call in Weapon X, and with that issue 1 of  X-force ends with two cliffhangers.
It seems like a lot is going on in this comic when in reality there isn't really anything happening. There is one scene of any real action, and that happens in only 10 pages of this 33 page comic. This is a book that was billed as an action title back in 1991, and it fails to deliver the goods. There are almost as many pages devoted to the "Sunspot and Gideon business world" subplot as there are to the action pages. Instead of action we get pages upon pages of vague dialogue and narration.
The writing is the real crime of this comic, not the art. Look at this gem of a first page right here: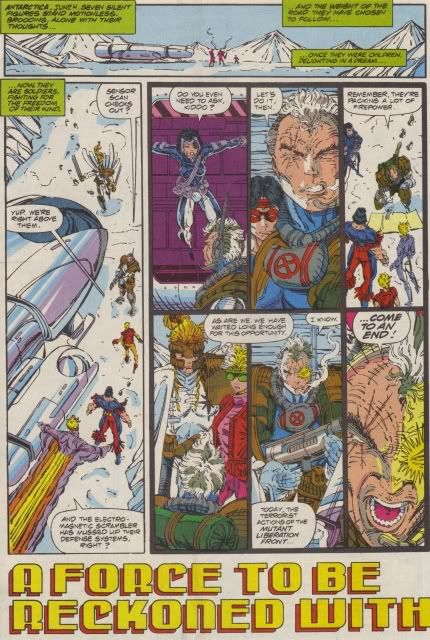 Got to love the narration in the first panel.  It is like Nicieza was trying to add some depth to this comic by making the heroes seem troubled by their actions and what they are about to take part in, but no. They are just waiting for the sensor scans to come in before they attack. They don't seem hesitant at all. Actually, they seem to want to go in there and bust some heads. I do love the last line from Cable, "Today, the terrorist actions of the Mutant Liberation Front… COME TO AN END!"  Nothing really bad about it. Just funny how the last part of the sentence is screamed and the art reflects it so well.  The comic continues with the bland writing throughout the book, and it doesn't help how the plot is paced. The rough cuts between the separate plot lines is jarring and unsettling to the mind. One minute you are in Antarctica and the next you are in New York, often on the same page. It is like the team behind this book didn't understand the basic premise of spacing the locations out on two separate pages.
Now some books can alternate between two locations and it works, but that is because the two locations contain two sides of the same plot and it adds dramatic effect. Take this quick sample I just threw together:
Setting: The Hero, Jim, has confronted the sinister villain, Mastermind about his fiendish plot. The villain has captured Jim's girlfriend Alex and placed her somewhere with a bomb attached.
Panel 1:
Jim is standing before Mastermind.
Jim:
MASTERMIND! Where is Alex?!
Mastermind:
Well Jimmy boy, that is for me to know and you to find out.
Panel 2:
Alex is lying on the floor with a gag in her mouth. She is incapacitated and is surrounded by kegs of gunpowder. On top of one of the barrels is a clock wired to the barrels. The clock is counting down from 1 minute.
Caption (Mastermind):
I will tell you this. She is about to have a blast. Muahahaha!
Panel 3:
Jim is clutching Mastermind by the shirt. A countdown timer is in the corner.
Jim:
You sick freak. You better tell me where she is or I will…
Mastermind:
Or you will, WHAT!? You and I both know you don't kill. So what threat do you pose to me? I am going to prison as it is, might as well take someone out before you put me away.
Mastermind:
And who better than your…
Time Caption
00:30
Panel 4:
Alex is waking up to discover the powder kegs surrounding her. Her face shows the look of fright and horror as she discovers her predicament. The clock face is visible and shows only :25
Caption (Mastermind):
Precious little girlfriend!!
Alex:
Someone, anyone, HELP!!!
Panel 5:
Jim has his fist glowing with the red energy of his rage. Mastermind is just leaning back, laughing. The timer is still in the corner
Mastermind:
HAHAHAHAHAHAHAHAHA!!
Jim:
You bastard! I will kill you if you harm her! Now tell me where is she!
Mastermind:
Well if I have to say right at this moment…
Caption (timer):
00:05
Panel 6:
Just a picture of the timer stating 00:04
Panel 7:
Timer stating 00:03
Panel 8:
Timer stating 00: 02
Panel 9:
Alex is looking up at the clock with tears running down her face. The Clock states 00:01
Panel 10:
An explosion of the location holding Alex.
Caption (timer):
00:00
Caption (Mastermind):
IN HELL! HAHAHAHA!!!
That simple page conveyed more drama and intensity than X-force has in its whole 33 pages. It jumps between location on the same page for a reason. Not like X-force where they jump mid-page because they have to show a couple extra panels of unnecessary dialogue . The fact that the writing is just dull and boring really hurts this book more than its artwork.
That is not to say the art is fantastic. It is early Liefeld. I already stated some of his signatures, but here is some of the interior art. See if you can spot what is wrong with these pictures.
Have you noticed what is wrong in this picture? Well Picture 1, suffers from a severe disproportionate figure. The scale for a human body is based on head length and width. The shoulders are meant to be two "head widths" wide, and here they are at least four.  I can't tell for sure actually considering the angle of the pose. Another problem in the first picture is that he seems to have thighs the size of bowling balls and the arms of a t-rex.  That is just bad style and skill.
Picture 2 doesn't fare much better. The eyes are almost non-existent, and to quote Linkara, Cable is suffering from "Young Bloods' disease". This does make some sense as Liefeld created and illustrated Young Bloods, and here you can see his trademark style shining through. This still is not the worst of it. That belongs Picture 3.
Picture 3 looks like a joke. His legs are almost twice as long as his torso. His arms have no elbows and look like some sick steroid experiment gone horribly wrong. His torso isn't facing the same direction as the rest of his body, or at least that is what the deformed up musculature implies. His body is over eight "Head lengths" long. The body is supposed to be around six to seven "head lengths". His width is left to our wildest imagination as the art fails to convey any real depth. The knee pads are not the same size. The left arm is longer than the right. His hair is funny. His cheek bone looks like he is a crack head. Then, there is the pouches. I already talked about that some when we looked at the cover but damn, there is more here than the cover.  There is 11 total pouches shown but we can assume there is at least 2 more on the other side of that thunder thigh.
The sad thing is that there are at least four other characters who have poses much like the third picture, and the book is filled with art similar to the other two pictures. This is just pathetic, but I blame this more on the editors and the people over the artist. They should have told Liefeld what not to do, but for some reason they let it go. The consumers apparently bought it up too. So there is no one to blame for the continuation of this art except yourselves, but I better stop before I turn this into an "In Defense" article on Liefeld.
In summation, X-force Vol. 1 #1 is a mediocre comic at best. The art is horrendous, and the writing is just bland.  I found the writing to be the part that ruined the comic. The writing makes the comic forgettable. It didn't offer any real story, and only one thing happened during the whole book. That one thing happened in the first ten pages. The rest of the book feels much like filler. At least bad art is memorable, but bad writing has no excuse. This comic is just a piece of trash and not worth the fifty cents I payed for it. If you see this comic in a bin at the local comic shop, pass it up and buy X-men #1 instead. At least that had Claremont writing it.
Thanks for reading and join us later today when we will have another blog up.
Hello everyone. It is that time of the week where I present to you my Pull List. This week is back to my usual 6 titles a week versus last week's massive 13. Now I am only going to review five of them as the 6th title is Wednesday Comics and I am going to review the complete series when it is finished in a few more weeks. So without further adieu here is this week's pull list.
Like always we start with DC comics and to kick it off we have
Batgirl #1
Okay I am going admit I didn't read about Cain's death in, what I believe, was her mini-series. So I am going to go into this blind. We are led to believe that this is a different Batgirl and most likely it is. We don't know anything about this series other then this is a new character donning the Cape and Cowl of Batgirl. I am curious to read this series and will be looking forward to see how it does this "mysterious identity" angle they are promoting the first issue with. I can only hope it is not going to be botched like Red Hulk. -Reads the solicits for issues 2 and 3- Oh okay so they are going to reveal her identity to the readers but not to the cast of characters. I can dig it.
Moving on now we get to
Blackest Night: Superman #1
This week we get another mini-series that ties in to the a major summer event, and like every single min-series tie in that ever existed this one is going to be pointless. This is the truth about such things. I have never read a mini-series that actually mattered in the greater scheme of things. Still, if the story is great they are often worth the buy. If last week's Blackest Night Batman shown us anything that these stories can be pretty good. -Checks the credits- Oh James Robinson. I hope this is better than Cry for Justice (which is getting better mind you, but still not great). I don't have high expectations for this mini-series based just on the fact it will be pointless.
Oh yeah that is Earth 2 superman not Kingdom Come Superman.
That will do it for DC and its time for Marvel. Starting us off is:
The Amazing Spider-man #603
Let me start off by saying this: Why is it so hard to find the cover to a comic?! This makes the third time I had to improvise the cover for the pull list. I search for a while and can't find a version of the cover that I can use. Just annoying especially when Marvel does preview images of the covers in the comics themselves half the time.
Now for the comic preview. I am really digging this story right now. Everything is clicking and it seems the MJ is probably the reason why its clicking so well. Last week had a revel that was pretty–amazing. I am eagerly awaiting the next issue. I often read Amazing last as it makes the build-up greater, and it usually gets any bad after taste out of my mouth.
Next up is:
Mighty Avengers #28
I have been enjoying Mighty Avengers since the Baxter Job arc. I heard that the first story arc was not that good but I missed out on it (probably buy it when I get the chance). So the Baxter Job and the subsequent arc has been really good. To me this feels more like an avengers story. Maybe its due to its line up but who knows. Just something about it that makes it feel fun. Maybe its that Dan Slott is plotting it and Yost is doing the script. Again, who knows. I just know I  can't wait to read it.
Finishing up this week's Pull List is:
X-men: Legacy #227
I am going to start this with the cover itself. It looks bland. Nothing other then the two fighting. It is kinda cool to see Ares vs the god charged Rogue, but all of the Utopia covers–even the bad Dark X-men Beginnings mini-series–has had great covers. This is a major downer for me. Now the comic itself was pretty good last month. It was the first time I picked up the series since Sins of the Father arc last summer. I liked how the tie in fit into the story but wasn't essential to the main event. Should be a good comic with a great fight scene or two.
Well that does it for the Pull List. I might get two extra comics (Adventure Comics and X-men Forever) but that depends on if they come in this week. Be sure to check out the site Wednesday when the new "In Defense of" premiers. This week the defense is going to do the impossible: defend Superboy Prime. Should be interesting. Also be sure to check the site Friday when I review the newest comics of the week (aka this list).
If you have any comments or suggestions leave them below or send them to: comicbookoverkill@gmail.com
This week is a really big week for me at CBO. Besides celebrating my birthday (which I share with Marvel comics and Jim Lee) I got around 11 titles. Truth is I bought more and some that didn't come in. I am going to put this out front, I am waiting to Review Wednesday Comics for a bit. Not sure how to do so. I also had to do some college work which made this review stressed for time. I still got it down, though I had to miss out on Rifftrax live. Anything for my readers though.
So other then that mess here is the review, presented in Two Parts due to length.
Part One:

Part Two:

For your ease here is what each video covers:
Part One:
Ultimate Comics: Spider-man #1
Ultimate Comics: Avengers #1
Green Lantern Corps #39
Blackest Night #2
Blackest Night: Batman #1
Batman #689
Part Two:
Uncanny X-men #514
Uncanny X-men: First Class #2
The Amazing Spider-man #602
The Marvels Project #1
The Incredible Hercules #132
Thanks for watching guys. Like I said in the video, if you have any questions or comments post them below or send them to comicbookoverkill@gmail.com I am very prompt with emails usually.