You are currently browsing the tag archive for the 'CBO Productions' tag.
I was so busy last week that I didn't have the time to make last week's Aquaman post. Here is the preview!
Of all of the original founding members of the Justice League, Aquaman (Arthur Curry) seems to have the most difficult time holding down a series. He has six ongoings under his belt and a seventh one is on the way after Brightest Day wraps up. The character has under gone several reboots and at one point was replaced with a younger version from the multi-verse in hopes to make him look cool. It is as if no writer can capture what Aquaman is about without him coming off as lame so DC has to reboot the series constantly. Aquaman #1 (vol. 5) is one of these reboots.
Read the full article here-
http://comicbookrevolution.net/index.php/reviews/dc/844-xtreme-holofoil-edition-aquaman-1
Now, this week's XHE, in which I take a look at New Mutants #87, the first appearance of Cable!
New Mutants #87
Creative Staff:
Writer: Louise Simonson
Penciler: Rob Liefeld
Inker:  Bob Wiacek
Letter: Joe Rosen
Color: M. Rockwitz
This one started it all. This is the comic that spring boarded Liefeld's career and the eventual birth of Image. Sure Rob Liefeld had some work before New Mutants #87, but nothing on the level of this comic. "Hawk and Dove" and the Nightshade story do not have anything on how critical this one issue is to the comic book industry. New Mutant was Liefeld's big break. This issue was his very first issue on the title and he quickly introduces some key characters into the X-men universe. First being, The Mutant Liberation Front, which hasn't been big in the recent years but in the 90's they played a role in majority of the events. Next key character was the introduction of Stryfe, who is the evil clone of Cable and leader of the MLF and was in the recent Messiah War crossover. Finally, New Mutants #87 includes the very first appearance of a personal favorite character of mine, Cable.
Why do I love Cable? Could be something to do with the fact I owned a Cable toy as a child and it was one of my favorite toys. It could be the fact he was a total Boss in the X-men cartoon. It could also be the fact he screams cool to me. I am a child of the 90's after all and the renegade thing is awesome. The fact this comic is his first appearance was a major deciding factor for me to buy it.  With that all said, let's talk about New Mutants #87
You can read the rest here- http://comicbookrevolution.net/index.php/reviews/marvel/853-xtreme-holofoil-edtion-new-mutants-87
That does it for this week. Be sure to read and comment on the reviews.
This week's XTREME Holofoil Edition is up over at the Comic Book Revolution. This week I take a look at Silver Surfer #50.
Go Read it here: http://comicbookrevolution.net/index.php/reviews/marvel/836-xtreme-holofoil-edition-silver-surfer-50
Now for the news. I will be redesigning the site here soon and rebranding it. I have some ideas that don't fit the Revolution so they'll be hosted here. The redesign should be in a couple days.
It's new comic book day and you know what that means! A new X-TREME Holofoil Edition is up exclusively at The Comic Book Revolution. Here is a preview though
Thunderstrike #1
Creative Staff:
Script & Plot- Tom Defalco
Pencils- Ron Frenz
Finished Art- Al Milgrom
Lettering- Rick Parker
Color- Mike Rockwitz
Thor has an odd history. During the Bronze Age, he was briefly bonded to a man named Eric Masterson, much like how Thor and Donald Blake were bonded. Their adventures were grand and epic, but eventually Thor decided to return to Asgard. In his place, though, Thor handpicked Eric as his replacement. In the place of Mjolnir , Thor has Odin forge a new weapon: the enchanted mace, Thunderstrike. Striking out on his own Thunderstrike aims to help people all the while struggling with new powers, his life and his commitment to hold up the honor of Thor. These adventures were chronicled in the series, Thunderstrike. The subject of this week's review is Thunderstrike #1. It  is a microcosm of the 1990's. It has the replacement of a classic Silver Age character for a more edgy, modern character; features some wonky art; 90's character designs complete with mullets, single earring wearing men, and sleeveless, leather jackets/vests; it has a special foil cover; and it has a character named Bloodaxe.
Is that not enough? Well, you can read the rest of the review over at the Comic Book Revolution
Starting next week I will be posting and writing a series of articles for Comic Book Revolution- http://comicbookrevolution.net/ The art series is titled The X-treme Holo-Foil Edition and will focus on comics from the bronze/dark age. It is the spiritual successor to It Came From The Bargain Bin! and A Field Guide to the Comic Book Bargain Bin. The articles will be weekly and released every Wednesday (school pending)  on the site. I will post links to the articles on here but the only place you can read it is Comic Book Revolution.
I cannot wait for this new endevour and I encourage you all to check them out. This project has been long in the making and some of the better reviews I've written. Below is the schedule for the first five reviews.
So be sure to check out The X-treme Holo-foil Edition every Wednesday over at Comic Book Revolution.
The X-treme Holo-Foil Edition release schedule-
3/2- Force Works #1
3/9- Static #3
3/16- Thunderstrike #1
3/23- Batman- Death of Innocents GN
3/30- Silver Surfer #50
So your favorite comic title is being canceled? What should you as a reader do? Well there is not much that you can do by yourself.  Though, it has been shown in the past that fan movements have saved titles from getting the editorial axe. Just look at Spider-girl and Manhunter. They both avoided the axe and even came back from dead a few times with the support of die-hard fans, but sadly these are exceptions. Most comic titles lined up to be axe will receive it. With that in mind I am going to tell you the five stages of grief you will go through when you learn your favorite series is getting axed and how to get through them all.
It should be noted that you can substitute "comic series" with any form of media, especially television, and the steps will be the same.
Denial:
"What Agents of Atlas is getting canceled? This can't be possible.  Marvel has actively pushed this book. Sales are certainitly. I mean the Mighty Marvel Ad Machine is behind this thing. IT CAN'T FAIL!! IT CAN'T!!"
Denial is often the first thing you start to feel when you learn that your favorite series is getting canceled. It stems from the fact you can't understand (or at least don't want to) why the book you love so much isn't selling. It might be a book with great writing and/or art so it's safe to assume that the title is performing well. Because, you know, quality is what sells books. The unfortunate truth is far from that. More often than not unless it's got a big name writer/artist, or a famous franchise behind it the book will perform mediocre at best. That is just how things go. Mainstream titles will always sell more than the random tangent ones. The sad fact is the vast majority of titles canceled every year are often the smaller titles that don't feature any sort of big name anchor.
It is natural to feel denial over the cancelation. It's the only way your mind can grasp the "tragedy" you are going through.  The best way to get over your denial is to start to realize that other things are in control here. This will lead you to the next stage of grief:
Anger
"Agents of Atlas is getting canceled?! I quit! Every good title is always getting canceled! Screw you Marvel! Screw all of you idiots who didn't buy the single greatest book in a decade! You ignorant fools! How dare you spend your money on crap titles like Uncanny X-men and Avengers! You have no taste. NONE OF YOU ALL! "
It's only normal to feel anger against the forces that you feel can't control. You feel that it's everyone's fault for the book not selling.  You think the world is out to get you and more often than not you will be pessimistic about the state of the comic industry as a whole.
The good news about reaching this stage is you understand that sales are often the death nail of a comic book series. The bad news is you are blaming everything else for the sales being low and not the actual appeal of the book. Tell me what sounds more appealing to you: a book featuring all the major characters of the company (IE Avengers with Iron Man, Thor, Captain America, Wolverine, Spider-man, etc) or a small team of c-squad characters (IE Agents of Atlas with Namora, Gorilla-man, Jimmy Woo, 3-D Man, etc.)  Let's be honest, Wolverine sounds far more enticing than 3-D Man, at least to the majority of the comic buying public.
So don't be angry at everything else and look at the book itself. You might find the problem is with it rather than everything else. The sooner you begin to do this you will start entertaining the next stage:
Bargaining
"Okay, okay. You can cancel Agents of Atlas.  All I want is a wrap up to the story line and a mini-series. Only then I will be okay with the cancelation. Conclusion and mini-series or no deal"
Once you stop being angry at everything you will start trying to make deals that really can't be done.  Stuff like allowing the cancelation only if the story can get a proper conclusion or a spin-off mini-series. Most see the mini-series as a great way for a franchise to build on an existing fan base in a low risk environment. This is so true that comic companies are all for it, as long as they can make some money on it. Many grieving fans feel if they can a mini-series the franchise can get a renewed lease on life because if the mini's sale well enough they will either get more mini's or even the coveted ongoing.
There is nothing wrong with wanting a mini-series after a cancelation it's the way you ask for it. You cannot try to make a deal with a corporation over it. They are going to cancel the title anyway, unless you get a Spider-girl type save, and all this bargaining does is make you feel more optimistic about the impending cancelation.
Now bargaining can take a different direction. You could bond with fellow fans in the community and make a un-cancelation movement, which at heart, is a bargain. You are essentially saying we'll increase the sale of the book if you save it. While this has worked for some books like Spider-girl, it most often fails or doesn't last. The big problem with this type of bargain is that it's a temporary fix at best. Unless you can sustain the increase sales, the book will get canceled once again.
You will reach a point when you finally come to the conclusion that bargaining doesn't do anything to help your cause. This is a dark point as you are now entering the lowest of lows:
Depression
"I can't believe it. This is the second to last issue of Agent of Atlas. There hasn't been any word mini-series or conclusion. It's truly over. I think I am done with comics now, guys. There is no reason for me to continue reading now."
Depression is the lowest you'll get, that is the good news. The bad news is that you might lose faith in the comic industry. It's hard to go back to an industry that has been worked against something you loved. It really is. The system is cruel and can kill a title. There is only one way out of this state and that is looking back on your past experience of the book. Remember the enjoyment you've had reading the series and be sure to get any eventual hardcover/paperback collections. You might get lucky and sales in trade might encourage a future mini-series. Just take solace in that they can never take your enjoyment away.
You will eventually get past depression, but it might take some work. Maybe finding a new series that will capture your attention will help your depression. I do suggest go for a major title that cancelations rarely hit. Besides remember even X-men (Uncanny X-men) was canceled for a while. So who knows? Your series might experience a rebirth and catch fire to become a flagship.
Acceptance
"You know what? I am alright with Agents getting canceled. I've gotten several mini-series out of it and even a back-up feature. This may not be ideal but I can dig it."
You have finally come to the end of your journey.  You are now accepting the cancelation and you are fine with it. You see the positives from the axe and you are okay with the industry itself. You understand that it isn't evil like you think. It's a business trying to survive and poor selling book isn't good for them.  Also you now have more money to spend on trying to find a new series. This is a start of a new journey. The world is full of comics and they are all looking for new readers. Go out and experiment. Break out of your norms and find something you might enjoy.
Just hope the new series isn't on the bubble.
Here is the next batch of Mere Mortal Strips. This time they aren't as focused in terms of overarching storyline but here is where I start having fun with the characters and the art continues to fluctuate. Next week I will be posting the most recent arc which I left on a cliff hanger (which I am finishing up) then I start working on newer batches. I plan to do this in batch format and in bursts. Think it works best for me.
Just like last time, click to enlarge.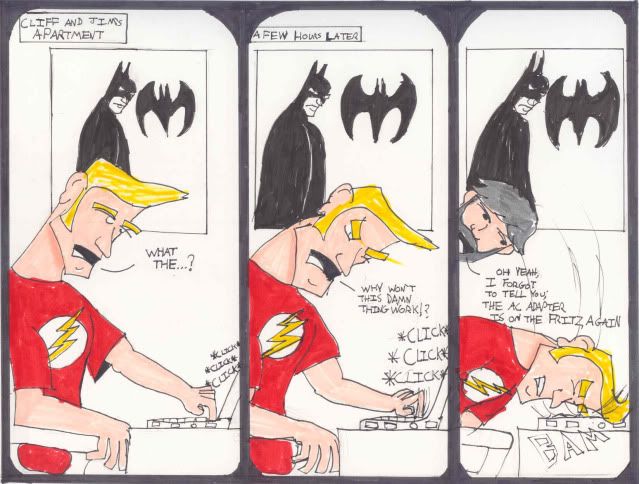 Continue after the jump
I've decided to start hosting my webcomic over here on the main site. Here is the first batch, Free Comic Book Day (Collects Strips 001- 007)
Click on the strip to enlarge.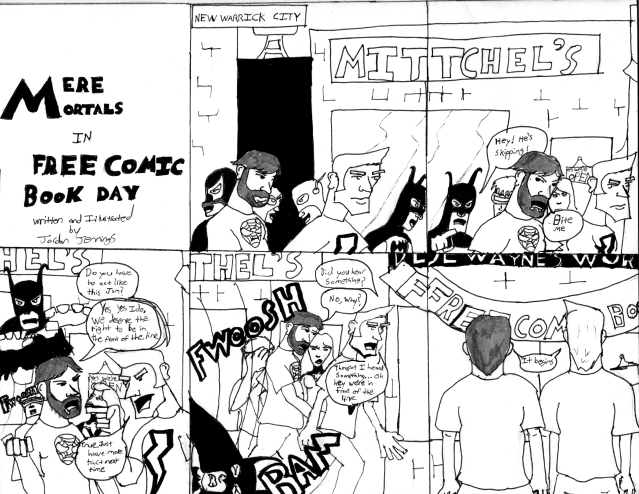 Continue reading after the jump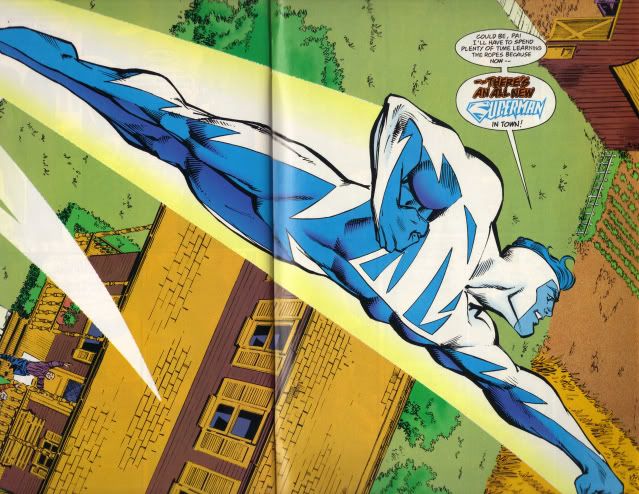 There's an all-new Superman in town and ladies and gents he's blue like a smurf.
Hello everyone and welcome to another edition of the "Field Guide To The Comic Book Bargain Bin" and today we are looking at Superman (vol.2) #123. As you might have guessed this issue marks the first appearance of the Modern Superman-blue. This comic holds a special place in my heart as it is the very first comic book I've ever read. So I am going to go ahead and state that there is a slight chance for the nostalgia lenses to be on.
Disclaimer- Nostalgia will show up in this review and as such your personal mileage may very well vary.
Like always I am going to offer some backstory on the idea behind Superman blue. Superman blue is a part of the larger Superman Red/Superman Blue storyline in which the Man of Steel acquires new electrical based powers and loses his classic traditional powers. Later when Superman Blue is split into Superman Red, due to Cyborg Superman's doing, they split the Clark's personality traits. Blue becomes more thought driven and Red becomes brasher along with other traits. This storyline is a call back to the classic Superman story- Superman (vol.1) #162 in which Superman divides himself into two beings (one being red, the other being blue) and they proceed to solve all the world's problems. Now that story was an imaginary tale and was one of the Silver-age's finest.
As for this rendition of Superman-Blue it's cannon. Heck Blue was on the JLA for a short period of time. See this comic came out in the late 90's and it does show in one way. This is an obvious stunt to get readers to buy comics. The comic bust happened and the companies are suffering. DC during the 90's decides to have all their major Superheroes undergo drastic changes- Batman was replaced by Azbat, Green Lantern Corps was no more and there was only one: Kyle Rayner, Wonder Woman was now Artemis, Green Arrow was Connor Hawke, and Superman underweant several major changes in the 90's. He started the decade getting killed off, only to return. He was later married to Lois Lane (Fun fact they wanted to do this originally, but with Lois and Clark on tv, they wanted to hold the marriage off for another year. So in its place they kill off Superman.). Then to cap it off he was turned into pure energy and as such was rewarded a brand new costume.
Speaking of the costume let's talk about the Superman-Blue costume which makes its first appearance in this issue.  The costume is a sleek jump suit costume with a stylized shield. He is missing his trademark cape and the famous "underwear on the outside" look that he has carried for decades. His skin and hair is turned electric blue and his eyes are colorless. Overall I enjoy this design and it's one of a very few new costumes that Superman has wore. Of them (The Red, Black, and the post-Our Worlds At War costume) this is my favorite. It gives the impression of being slick and fast. The white lightning bolt accents remind us he's electrically based and it breaks up the blue. One thing I don't understand is that the sole purpose of this costume is to contain Superman and prevent him from disappearing into the atmosphere. Yet, Superman's hair and face is exposed? I guess it's to remind everyone he's Superman.
Now with all of this out of the way, here is a quick synopsis of the plot. A massive monster named by the media as Scorn is attacking the city and Superman undergoes a massive change while fighting the beast. Unable to control himself he goes to STAR labs where they contain him until they can find a way to contain him for a longer time.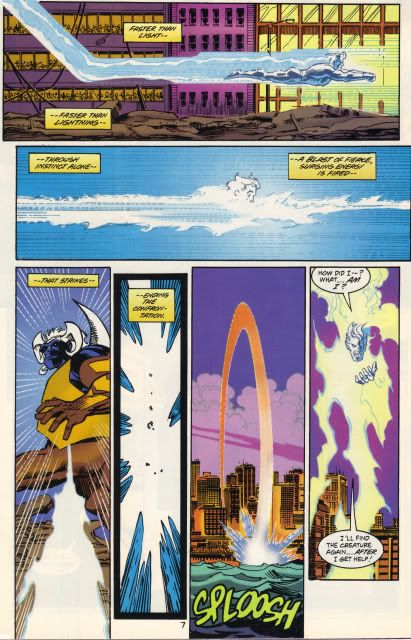 Luthor suspects something is up with Superman and has his wife go to STAR and offer them a new polymer that promises to insulate Superman.  Lois and Dr. Hamilton reluctantly accept Luthor's gift and with kryptonian technology Dr. Hamilton builds a suit for Superman that can properly contain him. Once with a suit Superman begins to look for the monster but can't find him. After that he decides to go to Ma and Pa and ask Ma for a costuming tip. She tells him to make an "S" and after that Superman flies off into the skies with new costume and a new outlook towards the future.
Scorn, the monster, doesn't really do much in this issue. He is quickly blasted out metropolis by Superman but other than that he isn't important to the issue. Other than that there isn't anything bad about the plot.  The plot is fairly simple and light. It's essentially a means to show off Superman's new powers and build up the new costume's practical purposes.
Now for the three most important questions:
What was Superman #123 trying to do?
This comic main purpose was to be a jumping on point for new readers. This is evidence by the first two pages of the comic being a recap of events leading up to Superman's new powers. Also the comic tries to set up and detail all of Clark's new powers for the readers, and show the origin of his new costume.
Did it succeed?
Yes I have to say it did on all counts. The recap page told the reader all of the past they have to know, from the first of Clark's new power appearing to the monster's attack,  in order to understand what is happening in the comic. It also does it in a way that isn't a bland recap page with nothing but text. I don't know about you but I enjoy whenever the recap is done with picture and not a wall of text. It's a comic book after all.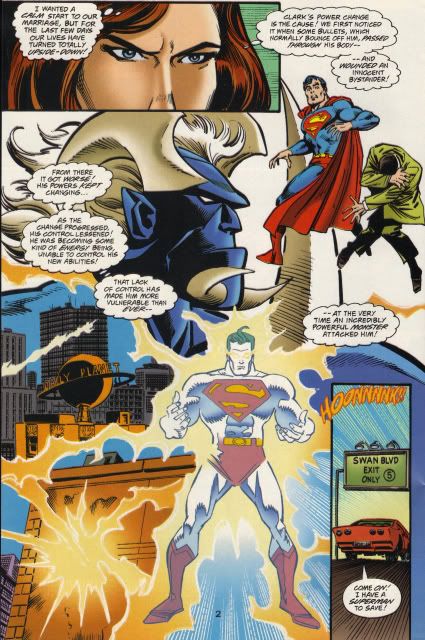 The way the comic shows the superpowers is condensed but works. In a matter of three pages they show he can fly faster than ever, fire energy bolts, and can revert back to a normal vulnerable form. This is something I love. Actually this is one of my favorite parts about Bin diving. I find comics from an era where Stories are condensed into one issues and not dragged out over several issues. While yes this arc isn't condensed (It lasted for a while honestly.), they managed to hit every single point they needed and wanted to hit without having to drag it out over several issues.
The biggest proof that this issue worked is me.  I was just seven years old when I received this comic from a family friend. I knew very little about Superman except what I learned from the Superman TAS. Yet I remember enjoying this comic fondly. Not once did I go, "why did Superman go blue?" as it made sense in the comic. I even remembering asking why Superman would take something from Lex Luthor as you could tell it was going to come back to bite him in the butt (Not sure if it did. Need to find the rest of the Superman-Red/Blue arc). This comic worked on every level to me then and today as a more critical person. This brings me to the final question.
Was it worth it?
Yes. It was worth it. This comic succeeds by having tight writing and a strong art direction. Now the art style is something that some wouldn't like. It has a cartoony look to it. It isn't Bruce Timm type cartoon style but it's a comic book style. The characters are grounded in realism with realistic proportions and motion but it has a loose fluid look. This is interesting considering the book has two artists on it. At no point can I tell there was a difference between the two which is very common in comics with multi-person team on the pencils. Maybe a more skilled eye can note the difference but I can't.
Now for a random blurb-
The layouts in this comic are pretty darn good. Comic book layouts are an interesting thing. If they are done right you rarely notice but if they are done poorly you can spot them a mile away. This is the rare case where the layouts are so good you can't help but notice. Here is my favorite page in the whole comic: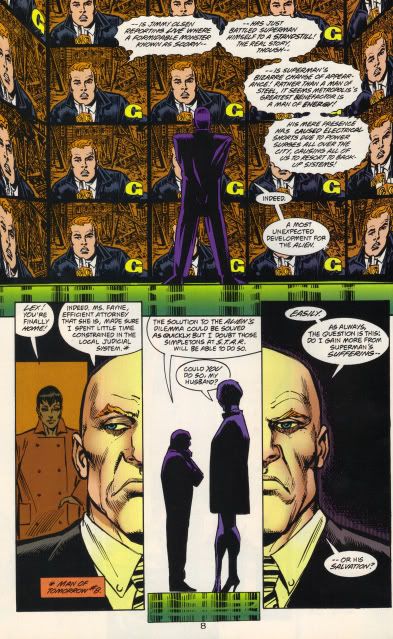 We have Luthor standing in front a massive wall of tv with a dark shadow cast on him. That's awesome but it's the panels on the bottom that's awesome. Not once do we get a clear look at Luthor's full face just the halves. They are broken up by the panel with Luthor talking to his wife, which is also a great panel with the couple's silhouettes. The two bottom corner panels also manage to show luthors expression change. I just loved this page.
This brings me to my lesson to you all:
Lesson # 4: Nostalgia induced comics aren't all bad. I know I said that with Mighty Morphin' Power Rangers but in reality this comic was as much a part of my childhood as Power Rangers.  Looking back on it after not reading it for nearly 12 years I have to say this comic holds up. The writing was solid (Jurgens is easily one of the finest Superman writers of the last 20 year) and the art was loose and expressive.
While the nostalgia lenses might be obstructing my view of the comic, but I still strongly recommend this comic. It is the perfect example of how to do a condensed story and yet have it be over-arching to make you want to read more.
Brief Introduction: I did this paper a while back for a mythology class. I did it on Batman and the Monomyth. I ended up making a C on the paper due to Grammatical errors that were present. There are some inaccuracies concerning the Batman legend. Part of the problem was I went with an amalgamation of the stories out there (various movies, cartoons, etc.) and some things I just plain got wrong. So here's some fun: The person who spots the most inaccuracies will get a prize. Maybe a copy of one of my bargain bin comics. I will decide later. Also if you all enjoy articles that do more analysis of characters, tell me and I will. I enjoy the stuff but not sure how it will fair. Submit your entries in either the comment section below or email them to me at: comicbookoverkill@gmail.com
Note: This article is posted as it was sent to the teacher with grammar mistakes still present.
The American Super Hero and the Monomyth
The American comic book is often called the source for the mythology of America. It is only natural for the media to be called the main source of mythology when you consider the main genre of comic books is the Super Hero story. The world of the super hero is often characterized as a world where death is just a passing thought, as the hero (and villain) will not stay dead for long. It is a world where men can fly, women can unleash supersonic screams, and children can flip semi trucks with the power of their mind. This world is a mythological world and the heroes of this world often fit into Campbell's Monomyth.
The American super hero, Batman is an excellent example of the American super hero and how it fits the monomyth presented by Campbell. Batman's journey began at a very young age when, as Bruce Wayne, he witnessed his parents' death at the hand of a mugger. At that moment Bruce became a different person. When he reached his teenage years Bruce, the successor of the massive Wayne fortune and Wayne Enterprises, decided to begin a quest at which he will be able to avenge his parents' death. At his side throughout his journey was his loyal butler Alfred, who had to assume the role of the father figure for Bruce and became his guide throughout his quest.
The quest began when Bruce and Alfred left on a ship from Gotham City harbor and casted off to the Asia continent. When Bruce arrived in Asia he entered the training of the League of Assassins. The League was known around the world for the silent and brutal tactics used to enforce the will of the highest bidder. Bruce willingly began his transformation from the meek trust fund kid into a precision killing machine.
During his tenure under the league Bruce was assigned several tasks to prove his worth to the league. He achieved all the tasks but one, he refused to kill anyone. During these trials Bruce meets Talia al Ghul, daughter of the leader of the League. Bruce fell deeply in love with the young assassin but she often tempted Bruce into killing her father and assuming control of the League.   Bruce still held true to his convictions of not killing and turned away Talia, despite his feelings for her.
One of the final tasks Bruce was told to undergo was the task of isolating himself in a cave, inhale the fumes of a burning hallucinogenic flower, and face his own fears. His greatest fear turned out to be disappointing his parents by failing to avenge their deaths. Bruce overcame the fear and no longer was Bruce Wayne but Batman (He was not truly Batman in name, but he assumed the mindset and personality that would become known as Batman). This is when Bruce began his final training.
The final training for Bruce was to kill a fellow member of the league. Bruce still held to his conviction like before and refused to do so. The leader of the League did not take well to this and attacked Bruce. Seeing as he is now fully prepared to avenge his parents' death, Bruce fought the leader and won. Instead of finishing the leader off, Bruce escaped from the League's HQ and made his way back home to Gotham.
In Gotham, Bruce tried to use his training to fight crime but soon learned that he failed to intimidate the criminals and his tactics relied on this intimidation. One night after failing to stop the criminals, Bruce witnessed a bat flying into the window. This became the moment when Bruce known that he would have to take the form of a feared figure and he choose the bat as it is a creature of the night. Bruce then assumed the dual identity of Batman, the trained skilled fighter, and Bruce Wayne, the trust fund kid, as a way to achieve his goal to eventually rid the city of crime and avenge his parent's death.
The story of Batman on the surface sounds like a revenge story but you can analyze it further and see how it fits the Campbell's Monomyth. Starting with the death of Bruce Wayne's parents it becomes apparent how it fits the journey. The death of the parents represents for Bruce the call to adventure. Campbell states "The awakening of self…But whether small or great, and no matter what the stage or grad of life, the call rings up the curtain, always, on a mystery of transfiguration—a rite or moment, of spiritual passage, which, when complete, amounts to a dying and a birth." (Campbell 51). The death of the parent's of Bruce marked a turning point in Bruce's life. He lost his childhood and vowed to avenge their deaths. He sacrificed his childhood to his goals and began to train his mind long before he began training his body for the quest ahead.
Bruce's ultimate goal was to earn the ability to avenge his parents' death. The person to aide him on his goal was his loyal butler, Alfred. This was in a way was Bruce's supernatural aid. Alfred served as his mentor and the earliest trainer to Bruce. "For those who have not refused the call, the first encounter of the hero-journey is with a protective figure…who provide the adventurer with amulets against the dragon forces he is about to pass" (Campbell 69). These "Dragon Forces" was the training Bruce was slated to face. Alfred was the earliest to provide him with the most basic training that Bruce needed to survive the difficult training process. It could be said that the training was Bruce's amulet to face the training, which itself represents a dragon force.
Campbell's' monomyth states that the hero must cross the first threshold into the mythological world before he can begin his journey. "With the personifications of his destiny to guide and aide him, the hero goes forward in his adventure until he comes to the "threshold guardian" at the entrance to the zone of magnified power." (Campbell 77). Bruce Wayne's crossing of the first threshold was the voyage across the pacific to the land of Asia. The threshold guardian was the threshold itself. The voyage across the turbulent waters of the Pacific is a dangerous trip. If you are not caught in a storm, you are hit by min-tsunami waves, or you run the risk of running into modern day pirates that ride the coast looking for targets. Bruce must face the ocean if he is to ever begin his training. He must literally cross the threshold guardian in order to continue his quest.
The academy where Bruce received training functions as his "Belly of the whale" and is the location where he began to destroy the identity of "Bruce Wayne" and building the identity of "Batman."  Campbell states that, "This Popular motif gives emphasis to the lesson that the passage of the threshold is a form of self-annihilation."(Campbell 91). Bruce must undergo the training the academy provides in order to become the hero he desires. The academy is where Bruce begins his initiation and starts his road of trials.
The road of trials is represented in the Batman origin by the tasks assigned to him by the League of Assassins. The tasks range from the simple fetch quest to the killing of a man. Bruce succeeds in his quest but fails at one task, killing. Bruce refused to kill anyone as that would force someone to endure the pain he felt when his parents were murdered.  The trials show that Bruce is not fully ready to avenge his family. Bruce learns that he will have to avenge their deaths in another fashion. The trials provided by the League are not only trials Bruce must undergo in order to receive further training, they also present a trial of conscious for the hero. Bruce must decide what type of hero he wants to be. Does he want to be on the same level as the petty crook that took his parents and initiated his quests, or does he want to be the hero that rises above the world and let the system sort out the criminals? Bruce decides to be the hero that works alongside the system instead of outside it, for to be outside the system you are a criminal and no worse than a mugger on the streets.
In Bruce's life women function as a temptress though are often disguised as the goddess. Talia was the first temptress in Bruce's life. Talia tried to sway Bruce to break his vow of not killing and in turn deviate from his quest. He would become the tyrant instead of the hero.
Bruce has to confront his father and mother and atone with them. He does not truly meat his parent but he must confront haunting visions of his family and overcome his fear. Campbell on Atonement with the father, "Atonement consists in no more that the abandonment of that self-generated double monster – the dragon thought to be God (superego) and the dragon thought to be Sin (repressed id). But this requires an abandonment of the attachment to ego itself, and that is what is difficult."  (Campbell 130). Bruce has to learn to let go of his fear if he is ever to instill fear into his opponents.  It is at this moment Bruce sheds his old life and becomes Batman. He is no longer his old self and now serves the greater good.
With his transformation Bruce obtains the ultimate boon he seeks, the training to avenge his parents. In order to make it out of the escape Bruce must fight the leader of the League. This battle represents the magical flight from the mythological world.
Once Bruce enters the city after his training, he must overcome the difference between the worlds. This is his return threshold. He overcomes this threshold when he assumes the mantle of Batman. The mantle allows him to live in his mythological world as Batman and in the real world as Bruce Wayne.
For more information on The Hero With A Thousand Faces- check it out at your local library or get it on Amazon.com
This episode was a favorite of mine. Besides featuring some background on Stewart and featuring some awesome Flash moments, this was the first time in The Justice League series we hear the Oath and in an awesome manner. The Manhunters (The robot security force that predates the Green Lanterns, and was eventually discontinued after a violent massacre.) were seeking revenge against the Guardians and the Corps as a whole. They nearly succeeded when the leader of the Manhunters absorbed the power of the Battery. Not wanting to take it lying down (and to get back at the individual who set him up) Jon stepped up and recited the oath and you can see the result above.  It was this moment I became a Green Lantern fan.