You are currently browsing the tag archive for the 'A Field Guide to the comic book bargain bin' tag.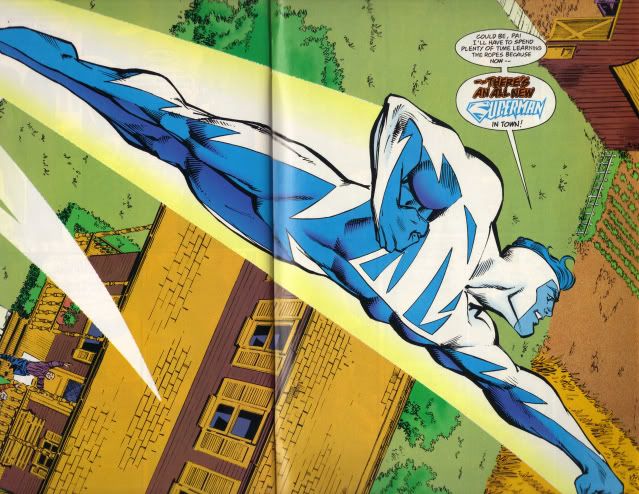 There's an all-new Superman in town and ladies and gents he's blue like a smurf.
Hello everyone and welcome to another edition of the "Field Guide To The Comic Book Bargain Bin" and today we are looking at Superman (vol.2) #123. As you might have guessed this issue marks the first appearance of the Modern Superman-blue. This comic holds a special place in my heart as it is the very first comic book I've ever read. So I am going to go ahead and state that there is a slight chance for the nostalgia lenses to be on.
Disclaimer- Nostalgia will show up in this review and as such your personal mileage may very well vary.
Like always I am going to offer some backstory on the idea behind Superman blue. Superman blue is a part of the larger Superman Red/Superman Blue storyline in which the Man of Steel acquires new electrical based powers and loses his classic traditional powers. Later when Superman Blue is split into Superman Red, due to Cyborg Superman's doing, they split the Clark's personality traits. Blue becomes more thought driven and Red becomes brasher along with other traits. This storyline is a call back to the classic Superman story- Superman (vol.1) #162 in which Superman divides himself into two beings (one being red, the other being blue) and they proceed to solve all the world's problems. Now that story was an imaginary tale and was one of the Silver-age's finest.
As for this rendition of Superman-Blue it's cannon. Heck Blue was on the JLA for a short period of time. See this comic came out in the late 90's and it does show in one way. This is an obvious stunt to get readers to buy comics. The comic bust happened and the companies are suffering. DC during the 90's decides to have all their major Superheroes undergo drastic changes- Batman was replaced by Azbat, Green Lantern Corps was no more and there was only one: Kyle Rayner, Wonder Woman was now Artemis, Green Arrow was Connor Hawke, and Superman underweant several major changes in the 90's. He started the decade getting killed off, only to return. He was later married to Lois Lane (Fun fact they wanted to do this originally, but with Lois and Clark on tv, they wanted to hold the marriage off for another year. So in its place they kill off Superman.). Then to cap it off he was turned into pure energy and as such was rewarded a brand new costume.
Speaking of the costume let's talk about the Superman-Blue costume which makes its first appearance in this issue.  The costume is a sleek jump suit costume with a stylized shield. He is missing his trademark cape and the famous "underwear on the outside" look that he has carried for decades. His skin and hair is turned electric blue and his eyes are colorless. Overall I enjoy this design and it's one of a very few new costumes that Superman has wore. Of them (The Red, Black, and the post-Our Worlds At War costume) this is my favorite. It gives the impression of being slick and fast. The white lightning bolt accents remind us he's electrically based and it breaks up the blue. One thing I don't understand is that the sole purpose of this costume is to contain Superman and prevent him from disappearing into the atmosphere. Yet, Superman's hair and face is exposed? I guess it's to remind everyone he's Superman.
Now with all of this out of the way, here is a quick synopsis of the plot. A massive monster named by the media as Scorn is attacking the city and Superman undergoes a massive change while fighting the beast. Unable to control himself he goes to STAR labs where they contain him until they can find a way to contain him for a longer time.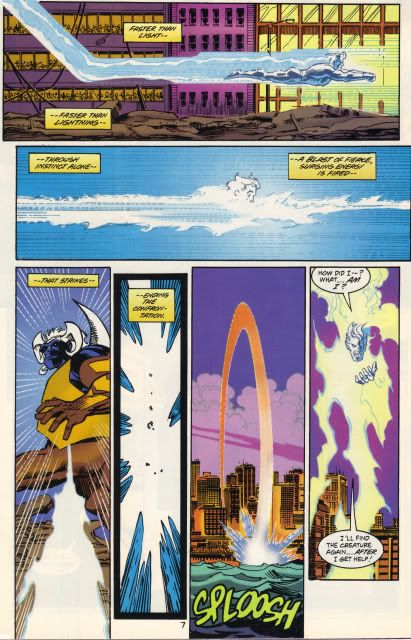 Luthor suspects something is up with Superman and has his wife go to STAR and offer them a new polymer that promises to insulate Superman.  Lois and Dr. Hamilton reluctantly accept Luthor's gift and with kryptonian technology Dr. Hamilton builds a suit for Superman that can properly contain him. Once with a suit Superman begins to look for the monster but can't find him. After that he decides to go to Ma and Pa and ask Ma for a costuming tip. She tells him to make an "S" and after that Superman flies off into the skies with new costume and a new outlook towards the future.
Scorn, the monster, doesn't really do much in this issue. He is quickly blasted out metropolis by Superman but other than that he isn't important to the issue. Other than that there isn't anything bad about the plot.  The plot is fairly simple and light. It's essentially a means to show off Superman's new powers and build up the new costume's practical purposes.
Now for the three most important questions:
What was Superman #123 trying to do?
This comic main purpose was to be a jumping on point for new readers. This is evidence by the first two pages of the comic being a recap of events leading up to Superman's new powers. Also the comic tries to set up and detail all of Clark's new powers for the readers, and show the origin of his new costume.
Did it succeed?
Yes I have to say it did on all counts. The recap page told the reader all of the past they have to know, from the first of Clark's new power appearing to the monster's attack,  in order to understand what is happening in the comic. It also does it in a way that isn't a bland recap page with nothing but text. I don't know about you but I enjoy whenever the recap is done with picture and not a wall of text. It's a comic book after all.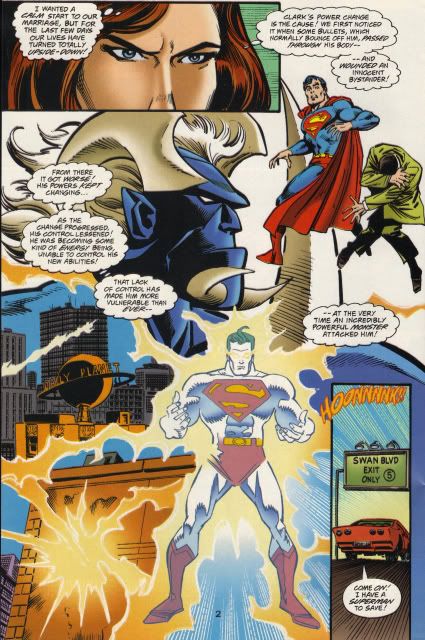 The way the comic shows the superpowers is condensed but works. In a matter of three pages they show he can fly faster than ever, fire energy bolts, and can revert back to a normal vulnerable form. This is something I love. Actually this is one of my favorite parts about Bin diving. I find comics from an era where Stories are condensed into one issues and not dragged out over several issues. While yes this arc isn't condensed (It lasted for a while honestly.), they managed to hit every single point they needed and wanted to hit without having to drag it out over several issues.
The biggest proof that this issue worked is me.  I was just seven years old when I received this comic from a family friend. I knew very little about Superman except what I learned from the Superman TAS. Yet I remember enjoying this comic fondly. Not once did I go, "why did Superman go blue?" as it made sense in the comic. I even remembering asking why Superman would take something from Lex Luthor as you could tell it was going to come back to bite him in the butt (Not sure if it did. Need to find the rest of the Superman-Red/Blue arc). This comic worked on every level to me then and today as a more critical person. This brings me to the final question.
Was it worth it?
Yes. It was worth it. This comic succeeds by having tight writing and a strong art direction. Now the art style is something that some wouldn't like. It has a cartoony look to it. It isn't Bruce Timm type cartoon style but it's a comic book style. The characters are grounded in realism with realistic proportions and motion but it has a loose fluid look. This is interesting considering the book has two artists on it. At no point can I tell there was a difference between the two which is very common in comics with multi-person team on the pencils. Maybe a more skilled eye can note the difference but I can't.
Now for a random blurb-
The layouts in this comic are pretty darn good. Comic book layouts are an interesting thing. If they are done right you rarely notice but if they are done poorly you can spot them a mile away. This is the rare case where the layouts are so good you can't help but notice. Here is my favorite page in the whole comic: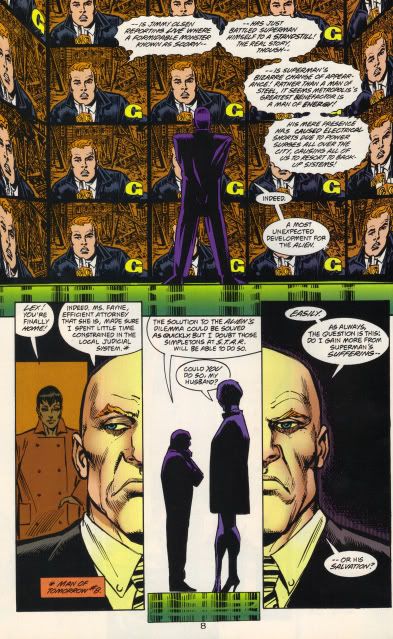 We have Luthor standing in front a massive wall of tv with a dark shadow cast on him. That's awesome but it's the panels on the bottom that's awesome. Not once do we get a clear look at Luthor's full face just the halves. They are broken up by the panel with Luthor talking to his wife, which is also a great panel with the couple's silhouettes. The two bottom corner panels also manage to show luthors expression change. I just loved this page.
This brings me to my lesson to you all:
Lesson # 4: Nostalgia induced comics aren't all bad. I know I said that with Mighty Morphin' Power Rangers but in reality this comic was as much a part of my childhood as Power Rangers.  Looking back on it after not reading it for nearly 12 years I have to say this comic holds up. The writing was solid (Jurgens is easily one of the finest Superman writers of the last 20 year) and the art was loose and expressive.
While the nostalgia lenses might be obstructing my view of the comic, but I still strongly recommend this comic. It is the perfect example of how to do a condensed story and yet have it be over-arching to make you want to read more.
The Punisher is easily one of Marvel's most popular characters. At one point he had 3 ongoings (all in continuity) and was a frequent guest star in a number of books. With this many titles coming out you tend to get some…weird stories. Today's story is remember for one thing but the rest is often ignored. I am tackling the infamous "Punisher Goes Black" storyline.
This is going to be a long one folks, so keep reading after the jump.
"Accept no imitations…Image Comics"
-Rob Liefeld, Supreme #1
Yeah but what do we do when your character is an imitation of another famous character? Do we not accept it? Just some musings I have when I read these comics.
Hello everyone and welcome to another edition of the "Field Guide To The Comic Book Bargain Bin." Today I am going to take a look at, what I consider, to be the Best Liefeld creation to date.  That is Supreme. What makes Supreme so great to me? I don't know really. Nothing about him is particularly special. He is just a derivative of Superman. That might be it. See unlike some Superman derivatives (Captain Marvel, Marvel Man, Sentry, etc. ) Liefeld is pretty upfront about Supreme's origin. It gets even better when Alan Moore takes over the book and runs with the Superman derivative idea to make the one of the best Non-superman Superman story to date. Though I am not here today to talk about Moore's run. I am here to talk about Supreme #1.
Just taking a second to dissect the cover, the scans just don't do it justice. The cover does use the foil embossed letters and it's amazing because, as you can see, the fists of Supreme overlap the letters.  "So what?" you may ask but the fists don't are on another level. It just feels great. The cover itself is pretty nice and it actually shows what sorta happens on the inside. Overall I like the cover. Another quick note, the "volume two" thing you see on the cover is never explained. I can't find what the deal is as there was never another Supreme series before hand. Maybe it was some weird print error.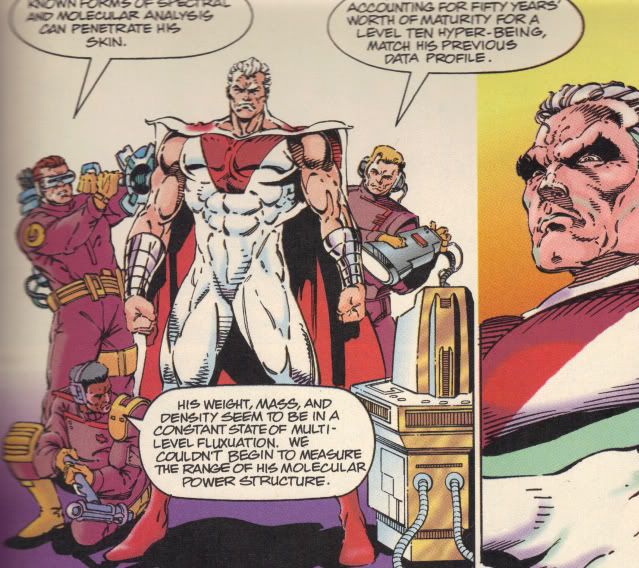 As for the character of Supreme the character design is rather simple and it works. It breaks the mold of Liefeld's designs. Gone are the pouches, the weird facemask things, and even the guns. Not a single bandolier or even a belt for that matter. There are some shoulder pads but those are rather small and symmetrical unlike the bulky lineman pads that other Liefeld characters have done. Also they quickly fade away in later issues in favor of your normal cape. The wrist bands break up the costume and the small use of red makes it pop. The only complaint I have is the sleeveless look of the costume.  It just looks dumb but I can take it compared to other costume traits from this era.
Here is some background on Supreme before diving into the plot of this issue.  The character has a weird origin. It was totally redone and adapted by Alan Moore to take on a meta-deconstruction of the Superman character. Before that though, Supreme was more like a Superman character who left earth after World War 2. He comes back to Earth to find the world has changed and the new crop of heroes has taken up the job protecting the Earth. The world he finds is led by money and genetic engineering. This leads to his motivation thinking he is better than everyone. He does have an ego and will flaunt it. Even taking on the Liefeld-verse Thor and beating the tar out of him.  So in a weird way you have Kingdom Come Superman but handled with a little more tact. Knowing this we can dive into the plot of the book.
Supreme #1 follows Supreme as he returns to earth after being in space, doing space things, for around 50 years. We really don't get much back story to why he left or why he has returned but he has and we are just going to roll with it. When he enters Earth's atmosphere, the joint-government agency mobilizes Team Youngblood (The global team) to confront Supreme before he can reach populated areas.
This makes sense as they don't know who this guy is and why he is speeding towards earth at an alarming rate. Youngblood and Supreme's first meeting is like any super hero first meeting, they have a brawl. But this time it is in Space. Supreme defeats, what is meant to be, the greatest super-powered team without breaking so much a sweat (worf-effect?). In midst a startling defeat Youngblood basically surrenders to the strange visitor (They are really banking on he's the real Supreme and not some alien imposter.)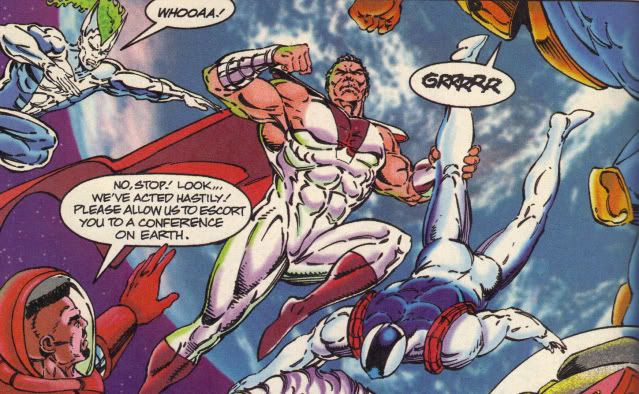 They take Supreme to their leader (I'm not kidding) and he is highly suspicious of Supreme but lacks evidence to prove otherwise. See, the scientists try their damndest to get a reading on him and they just can't get one. Turns out, Supreme's physique is impossible to actually take any sort of measurements off of him. His skin is too thick for the instruments to read, his mass, density and weight is in a state of flux (honestly you just have to say Mass is in flux and it works), but the maturity data matches the previous models.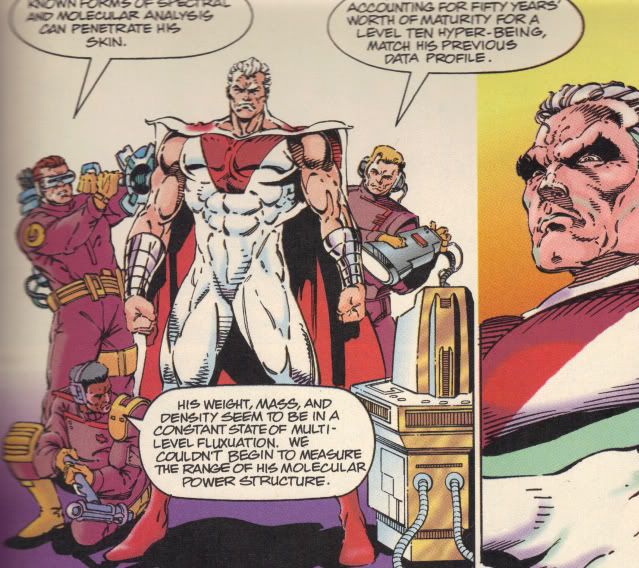 Using what is basically a hunch, the leader decides to believe Supreme's story and Youngblood even offers him a contract to work for the team. Supreme takes off without accepting or denying the offer to join Youngblood. It is then revealed that the leader of the agency plans to have Supreme lead a team called Heavy Mettle (Suicide Squad type force, I think).  The issue ends with Supreme flying in the upper atmosphere and crying while the leader states, in caption boxes, that with all that great power has a great weakness.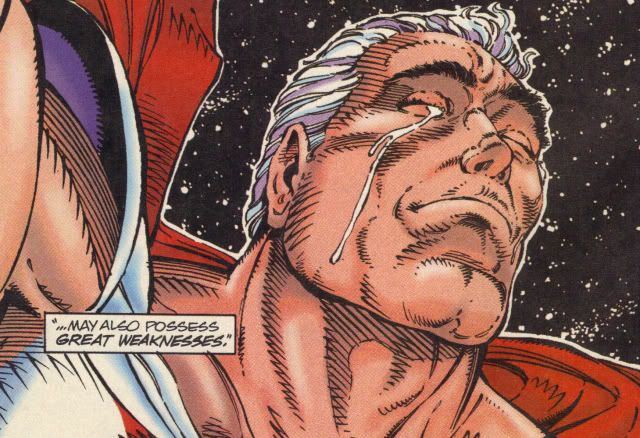 Not much happens in the first issue but it does setup a few things- It shows Supreme's conflict of the past and the present (A running theme early in the series) and establishes the power level of Supreme. He is the end all beat all of Superheroes in the Liefeld universe. This also becomes a reoccurring theme in the comic series over the next few issues. It also introduces the team Heavy Mettle, which is probably the only team created by Liefeld not to get their own title. Think about this real quick, even Bloodstrike got a team book and this team didn't. That has to say something about the team and how much faith Rob had in them.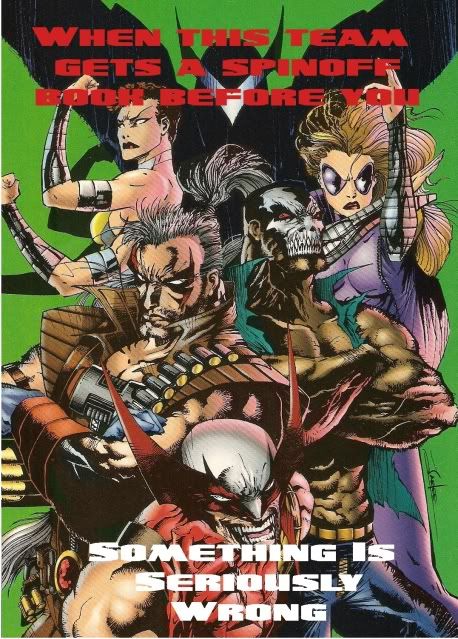 Now, this is the part of the review where I have to ask the three questions: "What is this comic is trying to do?" "Does it succeed?" and "Was it worthwhile?"
What Supreme #1 tries to do:
It tries to establish the Supreme mythos and make the character to be the strongest in the word. They try to play up his attitudes towards the modern world and how he has a mighty than thou attitude to everything. The comic shows this at one point when in response to being called Mr. Supreme several times, the character states "Supreme. Just Supreme"

Basically they try to establish Supreme as a jerk with Superpowers. Also they try to establish he has a weakness of some sort with the whole crying in space.
Does it succeed?
Yes and no. Yeah it hits all the points it needs to in order to make this story flow along but it doesn't do it the best way possible. In trying to show his dislike with the modern world Supreme asks, "How long have you been genetically Engineering Super-humans?"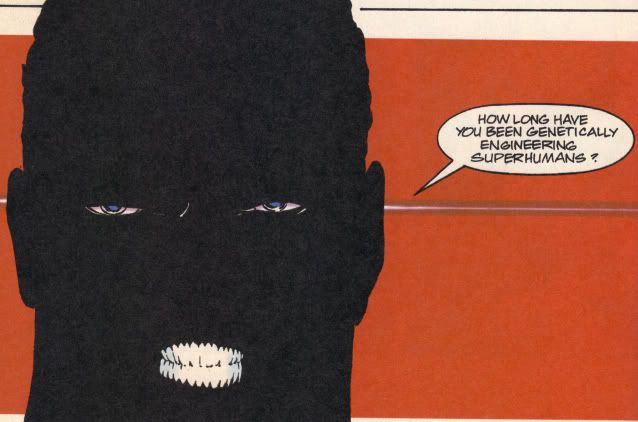 Yeah, cause Genetic engineering is totally synonymous with modern society. I know this was the 90's and the hot topic of the day was genetic engineering heck half of Youngblood was genetically engineered to be super-soldiers. It still doesn't make any sense to have that be his out of touch moment or his dislike of the present (take your pick on that one).
As for the attitude moment it was a way for them to make Supreme seem real, but honestly he was a jerk.  Yeah I know the whole premise for Supreme is what if Superman was real and this character is one of the earliest versions of the Real Superman archetype. That is my main problem with this character overall really. The guy isn't that likeable. Know they do try to establish a flaw but they really don't explain why he is flawed. I am certain they explain it in the second issue, but I haven't read that one and this review is about this comic. So based on this issue Supreme is very much a Gary Stu. Even more so than Superman because Superman's weakness is well known and he is a likeable character.
Was it worthwhile?
Despite all the crap I gave this comic, I enjoyed it. It is probably my favorite Liefeld comic I own and the character itself improves with later issues. I read those later issues thanks to this comic so it hooked me. Still I think your mileage may vary on this one. The main reason behind this is Liefeld's writing. As I've stated in the Prophet #5 review, Liefeld is no wordsmith. His dialogue is clunky and comes off as stale. The words don't flow like they should and he honestly has no rhythm to his words. See when you write a comic you need to find a rhythm of some sort. The dialog should follow a cadence and read like a normal conversation would. Instead we get what feels more like statements and less like dialog. I bet if I remove a side of the dialog you really wouldn't notice.
The art itself is actually solid in this comic. Unlike other Liefeld comics the artist doesn't follow the Studio style that many of the other artists did. That artist is Brian Murray. He draws the figure relatively correct in proportion but still unique enough not to look bland. There are moments where he screws up the continuity, especially in the beginning. Supreme changes positions on re-entry 2 times.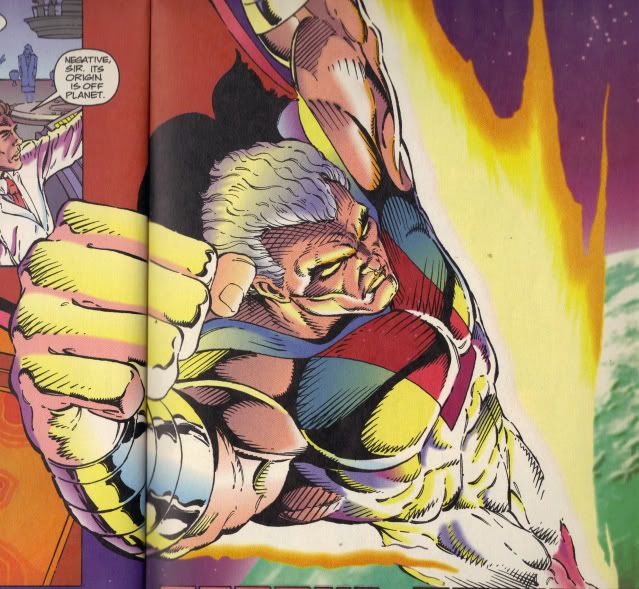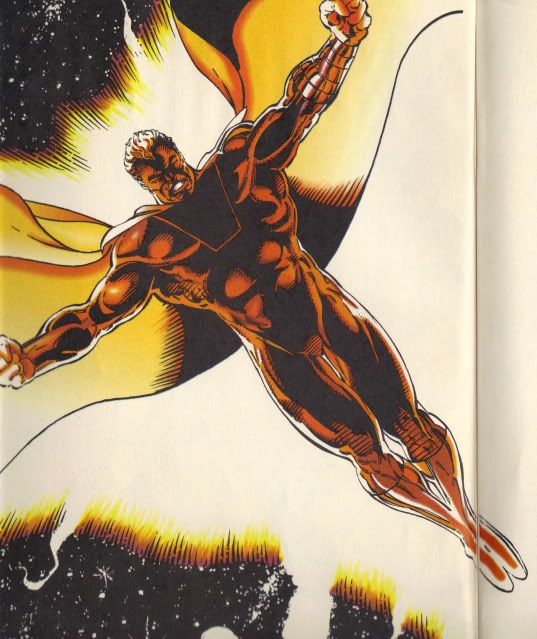 Also the coloring at times is screwed up. There are moments where Supreme looks like he is wearing white long sleeves instead of short. My only guess to why they kept such an obvious screw up was the costume changed before the comic was finished and they ran with the screw up. That or the colorist messed up and no one fixed it. I like to think it was the sleeves idea because I really like the idea of sleeves on this costume.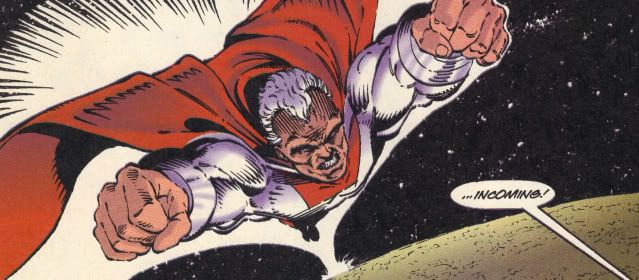 Other than that I can't think of any serious problems with comic. Honestly if you can get pass the lame dialog you will find an enjoyable comic to read.  Supreme is easily my favorite Liefeld creation and that's in large part due to my love for the Superman archetype and how the character acts. Yeah he's a jerk but he grows on you. He's a jerk in a more quipping type way and less in an Achilles type way. This brings me today's lesson
Lesson #3- Not all Liefeld comics are bad. Most are but the guy was so prolific you are bound to find a series you will enjoy. Be it Youngbloods, Bloodstrike, Brigade, Supreme, etc there is something for you to enjoy. So I suggest if you are going to go bin diving for Image comics check out a Liefeld comic. Who knows you might end up liking it. I've found fans of Prophet, afterall.
"Maybe one day I will get a whole bunch of courage up and put words in their mouth. I think they will probably ruin the picture as a whole…If I had to be the guy to put the words in their mouth to talk and speak it would be gibberish" Rob Liefeld- Stan Lee Presents: Comic Book Greats.
No truer words have been spoken.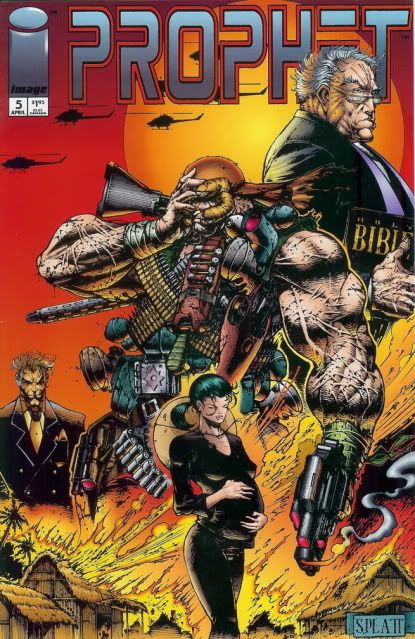 Welcome everyone to A Field Guide to the Comic Book Bargain Bin! Your handy source of all your bargain bin diving needs. Have you ever wonder what you get if you put John Rambo, The Ultimate Warrior, and overtly Christian overtones into a blender?  No? Well you will get Jonathan Taylor Prophet star of the Image Comic: Prophet. For those who are unaware of Prophet I will provide a touch of back story.  Prophet, from what I can gather, is a twist on the archetype of an experimental super-solider frozen in time (IE Captain America). He is foretold to stop the war that will bring the end of man, if he doesn't cause it first! Prophet comes from the mind of Rob Liefeld and it shows. The character is the definition of EXTREME! Just look at his costume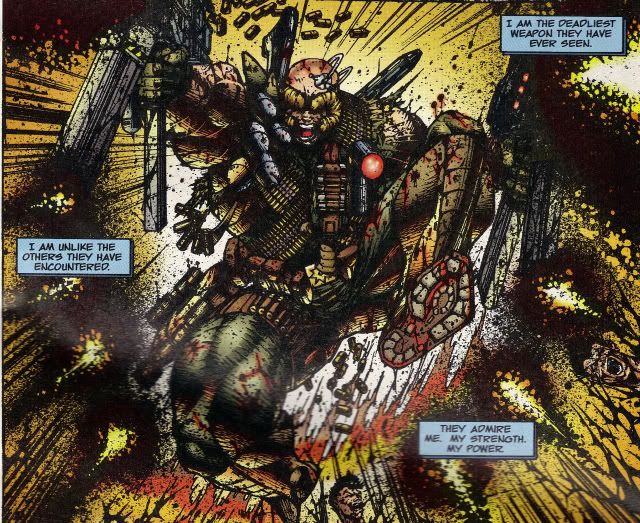 Big gun: Check.
Random Bandoliers: Check.
Shoulder Pads: Check.
Is it on just on one shoulder?: Check
Pouches: Check
The weird facemask thing: Check
Yeah this guy was the definition of awesome back in the 90's.
Now today I am tackling the confusing mess that is Prophet #5. The comic that contains elements of Rambo, The Matrix, an acid dream, and a painfully obvious Jack Kirby homage in addition to some of the  worst interior art this side of a Bluewater Bio Comic.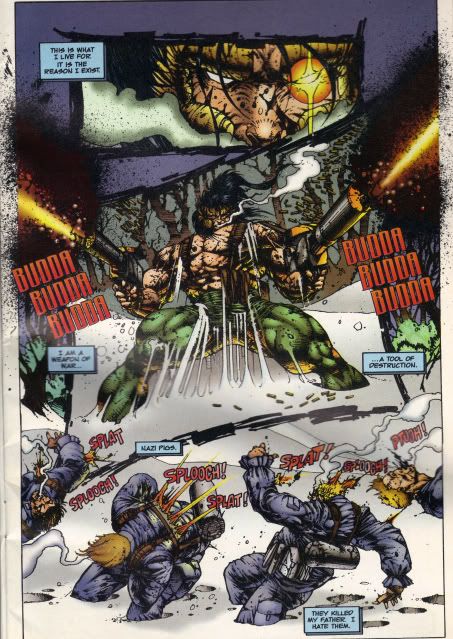 Let me explain to you the plot (if you can call it that) for this comic. Prophet hasbeen captured by the evil organization Ragnarock (you know they are evil due to the name synonymous with Armageddon) which is led by the villain, Omen (seriously, Rob, were you even trying).  Omen has put Prophet into a VR simulation to get into his mind to better understand the super-solider and why he is the way he is. This sends Prophet to WW2 Germany fighting Nazis whilst proclaiming they killed his father.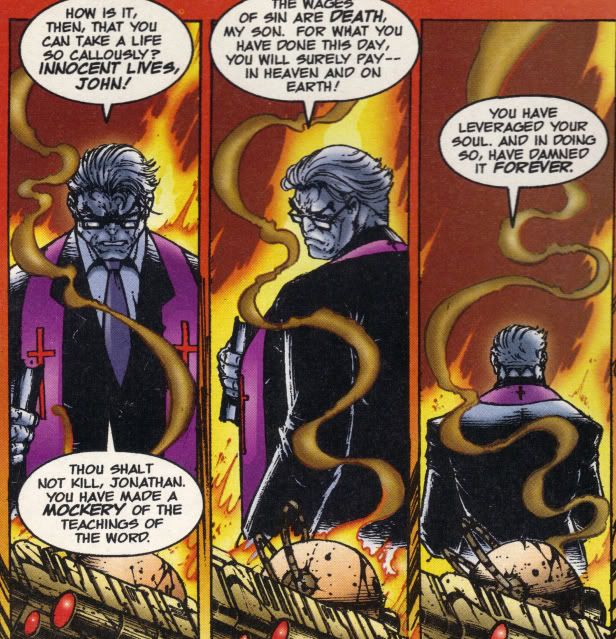 Through his rage and violence he sends himself to the jungles of Vietnam where the book takes a very Rambo turn with Prophet killing several dozen Viet Con with extreme prejudice. This is till he kills a pregnant woman in his blind fury. Feeling guilty an image of his father (or his Father, not sure really) comes in and tells him that he is damned in Heaven and Earth for his action of taking the unborn infant's life (Apparently God is cool with Viet Con being slaughtered). This sends Prophet in a berserker Rage in the real world and he savagely cuts a swath through the compound. He eventually escapes and this sends Omen into a panic. He decides to let Prophet's only friend, Jackson Kirby (yes. He is an obvious Jack Kirby homage.), to go and stop Prophet at all costs.
Now where should I start with this mess? I guess with this: There are the three questions a critic must consider when looking at a piece of work. What is it trying to accomplish? Did it succeed? And was it worthwhile? With all that I can gather from this confusing comic is that this issue was meant to serve as a jumping on point for new readers or at least that's what I think it tries to be. Just look at the first page
With all that text we are told who Prophet is, his location, why he is there, and his mission in life. You'd figure with that you think this should be the jumping on point for new readers, but you'd be wrong. The comic struggles to get its narrative across amidst an ocean of confusing caption trees, circular dialogue, and mindless action scenes.  When I first read this comic my knowledge of Prophet was low and afterwards this comic left me even more puzzled. I wasn't certain what the point of this comic was unless it was to tell me Prophet is crazy and likes to do nothing but kill. If that's the point then the comic pass, I guess, but in reality it failed. I am assuming this comic was a jumping on point and it failed to provide any sort of real information on the character and why they are there. Like why is this organization so interested in Prophet, knowing that if they do replicate him or whatever they will bring the End of Days? Also why is the FBI involved and heck why do they let the simulation go on long enough to cause Prophet to go all Savage Hulk on everyone? So yeah to answer the two first questions: What is this comic trying to do? Be a jumping on point for new readers and provide information for old.  Did it succeed? NO. It left more questions than answers and I still know nothing about Prophet.
As for the third question, "Was it worthwhile?" I have to answer, no. It was a mess of a comic. It was horrible to look at and each page I struggled to follow the action. The comic used a lot of close up shots (on hands mainly) and it really ruined the flow of the comic. Each page of comic should have at least one panel to establish the area. Show where everything is spatially and give us a sense of the kinetics of the fight. Yet this comic didn't do that very often and when it did the page was so grotesque it didn't make any sense whatsoever to me. This comic suffered some of the worst art by Stephen Pratt. Well not really him. His pencils were just bad artistically and sequentially but his inker and colorist are more to blame for this mess. They kept in all the unnecessary lines and detailing that just detracted from the comic. I will admit some of the pages were actually cool. I am a sucker for some of these 90's character models and poses some pages are just awesome. There was also a nice use of the two page spread to present a more cinematic storytelling. It was over-used a bit (and on the talking head scenes mostly) but when it was used properly it added an extra layer to the story. Those few things though don't save this comic from having some of the worst art I've ever witnessed.
The other flaw to this comic is Liefeld's writing. Liefeld is not the greatest dialog man in the industry. This is a fact. His plot work, at times, is all right and even some character concepts are well done, but the man can't write dialog. The comic has a bad case of the narration bug that seems to be plaguing Frank Miller to this day. The comic is 90percent caption. Some of that is dialog caption but the rest is all internal monologs by Prophet, who by the way speaks like the Warrior. The dialog at times just goes in circles, as does the narration. It all goes nowhere slowly. The writing just gets in the way of what was okay action (if ugly). You know how action flicks have those talking scenes to cool down for a minute and get to the next fight scene or whatever?  In a good action movie they provide moments of growth and development for the characters and set up the scenes properly, but in a bad one they just disrupt the rhythm of the movie and you just want to get to the next scene. This is how this comic works.  Instead of it being First Blood, it's Rambo 3.
Now these are some flaws of the comic that really get on my nerve but don't detract from the experience just going to state them:
The Dialog boxes are colored to help the flow but the characters don't keep the same color meaning you will think X character is saying dialog A but in reality its Y character. Very frustrating but can be figured out.
This is a biggie for me and that's the pointless Religious overtones. Liefeld is known for including Christian symbolism and overtones into his works. At most they are tolerable (nothing against them just sometimes they are forced) but in this case they don't serve a purpose. Prophet isn't a prophet. He didn't receive the Word of God and is trying to share it. He's a Rambo-style killer. The random priest in the comic and the fact the cover itself has the words Holy Bible in bold is just screaming "Hey we are symbols but poorly used and are misrepresented in this comic." Unnecessary Christian (or any religion) symbolism is a pet peeve of mine and this comic is full of it.
Now an awesome highlight- Prophet wears a suit of dead Viet Con to kill more Viet Con.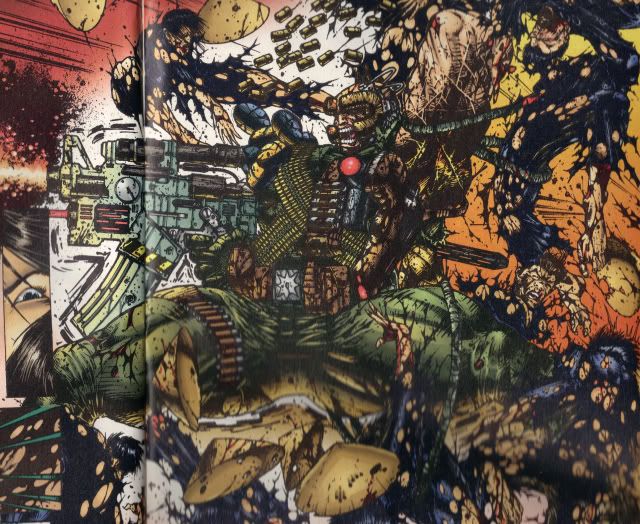 Seriously it's awesome. Only Liefeld would have a character use a dead body pile as camouflage. Well maybe him and Garth Ennis.
So to wrap things up-
Lesson #2- Beware all Rob Liefeld Comics. They are just plain bad. When Liefeld does pencils you get some of the worst art ever put out in the mainstream, and whenever he writes. God help us. The man just can't plain write. So as a general rule- All Liefeld comics are bad. Right?
Hello, I'm Jordan Jennings. You might know me as that guy who did those slightly humorous "In Defense Of" articles and other comic reviews. Well I am here today to announce a new project that will be coming out soon. That project is simply titled A Field Guide To The Comic Book Bargain Bin. It's primarily about me and my passion for the comic book bargain bin.  It's weird I know, but the bargain bin is a wonderful place where you can find some of the best comics ever made, but you can also find some of the worst pieces of so-called "sequential art" that has ever been conceived there as well. I know popular reviewers out there tend to pick on bargain bin fodder, namely Linkara (Normally I wouldn't mention him but it's the elephant in the room and the material may have some overlap. So I rather address it now instead of later in the comment sections.), but I will try not to do the same comics they cover unless I feel I can offer a new stance on the material or if for some reason I get a request for a certain comic a reviewer may have covered in the past. Instead I want to focus on the unsung comics that I find or stuff that sticks out to me.
Now over the past couple years I have amassed an impressive collection of bargain bin comics through either person bin diving or from my friend's donations to me. So for the first batch of articles/reviews I will probably focus on them as I have a ton of them. It's my goal to make each article interesting  to everyone by adding some background to each review ie: the story behind the comic, the story of how I got the comic, or the comics lasting impact. This should be a fun ride and maybe you will learn something. I want this to act like a field guide to the act of Bin diving (Like the title states.). Something you can read before heading to the comic shop and know what to do or what to look for while bin diving.
I will be devoting a few articles to focus just on some major era's and companies contributions to the bargain bin. I will go ahead and say the 90's is the largest era of bargain bin fodder and certain companies (Valiant Comics) have a larger presence than others when it comes to the bin. So in a way you can view this series as a history lesson of comics as well as something that is enjoyable.
That's it for this introductory article and I hope you have enjoyed it. Join me next time when I will be covering my first bargain bin comic. What will it be? Not sure just yet, though I am leaning to a certain Power Rangers comic.