You are currently browsing the category archive for the 'Pull List' category.
Since I am no longer doing Pull List previews, I will at least tell you what I pulled this week.
Batman #690
Justice League Cry for Justice #3
And that is it. Not a very heavy week at all. I will try to do a video review of the two for tomorrow, but chances are it will be text based.
That is all today. I will try to have something simple up Monday to give an update, especially since In Defense is Bi-monthly.
It has been a really crazy week for us at CBO Productions. In Defense of Superboy Prime has increased our traffic, we were named Awesome Blog of the week over at tgwtg, and we grew by the addition of our new content editor. Well, we have another thing to add. Last night around 10 pm est, In Defense of Superboy Prime was named Best of Blogs over at http://thatguywiththeglasses.com/
This, of course i,s a big deal as it means the article is now on the front page of the site. Go ahead and look if you haven't already. The site averages over 1000 people online at once, and most of the site know about Superboy Prime from Linkara's countdown videos (you can watch them over at this link http://atopfourthwall.blogspot.com/2009_07_01_archive.html ). This will probably translate to increased traffic on the site, which is great. I am not sure what the criteria are for best of blogs, but apparently In Defense of Superboy Prime met them. The funny thing about the article is that I wrote it and didn't feel it was strong enough to garner any attention. I even questioned posting it. I had no direction till the last minute, and I cranked it out in the timespan of a couple hours. Amazing how that works. Well, if you are visiting from Tgwtg.com expect more "In Defense" in the coming weeks.
In other news, the pull list has changed, yet again. Third week in a row where it has changed. Oh well no use in crying over missing books. Here are the changes to the pull list for this week.
Missing from the pull list is:
Flash Rebirth #4- figures the series I have been waiting for would get damage.  It wasn't the only title destroyed this week but still sucks.
In addition to the Pull List:
Booster Gold #23- Was going to buy it when it came out, but the store sold out before I could. I back ordered a copy, and it came in this week. I think I almost have all my back orders in finally.
Dark X-men Beginning #3- I forgot to add it to the pull list previews. This book is the last of the series and from thumbing through it, I am kinda excited. Will probably receive the greatest disappointment of the week from it though. Not sure just yet.
I also changed the site's theme and header last night. Tell me what you think.
Well, that is does it for today. Join me tomorrow when I will review the new comics. Just a reminder it will be a text review.
With the changes to the New Comic Review format there is no real need to do a pull list preview in the usual format of posting the cover of the comic and commenting on it. So instead here is the pull list. Just a simple list.
DC
Batman and Robin #3
Batman Widening Gyre #1
Blackest Night  Titans #1
Detective Comics #856
Flash Rebirth #4
Green Lantern #45
Marvel
Dark Avengers #8
Fantastic Four #570
Incredible Hercules #133
X-men Forever #6
Another heavy week. A couple titles sneaked up on me. Thanks for reading and check out the site Friday when the reviews will be posted.
Some minor changes to the pull list this week. If any of you buy comics weekly then you know the perils of Diamond Distribution. Some weeks you don't get the book and some weeks you get too many. Just how it is. So this week I didn't get one of my titles and that is Blackest Night: Superman #1. I am certain I will get it next week. The store apparently didn't order many copies and I foolishly forgot to email my comic book guy my pull list this week. I should get him to view this website more. Oh well, what can you do?
I did get the two missing books from last week, though. That is right, I will be reviewing X-men Forever #5 & Adventure Comics #1 this week. Also in addition to those I will be reviewing my G-man: Cape Crisis #1. This will be my first non Marvel-DC book I will be reviewing here on CBO Productions. Also it will be my first All Ages Book. Overall, New Comic Book Review will cover 7 titles this week and should be enjoyable. Check out the site tomorrow when the video will be posted.
Now in other news, "In Defense Of" is a hit. This was expected, somewhat. "In Defense of Aquaman" was a decent hit and reception was well. "In Defense of Superboy Prime" shattered my expected receptions. It has received much attention at http://www.thatguywiththeglasses.com and is getting a lot of praise (at least more than I am used to). I am going to move around the weekly schedule here soon because "In Defense of" will  be getting it's own day of the week and the other reviews and articles will be moved to another day of the week. More information to come. I just wasn't expecting such a big response to the 2nd article of the series and I have to carefully plan my reviews for school and such. I am thinking of making it a Saturday article or something like that. Again, more information will be provided in due time.
Also, next week will be the first non-superhero comic book review and starting in October expect more non-superhero comics in New Comic Review. I talked to my comic book guy and placed an order for several non-superhero books (or at least non-traditional). They are expected to ship in October. This should please my readers who want to see some comics outside of the mainstream, or at least not the superhero books. Expect them in October.
That is all for today. Be sure to check out the site tomorrow for a brand new episode of New Comic Review. Thanks for reading.
Hello everyone. It is that time of the week where I present to you my Pull List. This week is back to my usual 6 titles a week versus last week's massive 13. Now I am only going to review five of them as the 6th title is Wednesday Comics and I am going to review the complete series when it is finished in a few more weeks. So without further adieu here is this week's pull list.
Like always we start with DC comics and to kick it off we have
Batgirl #1
Okay I am going admit I didn't read about Cain's death in, what I believe, was her mini-series. So I am going to go into this blind. We are led to believe that this is a different Batgirl and most likely it is. We don't know anything about this series other then this is a new character donning the Cape and Cowl of Batgirl. I am curious to read this series and will be looking forward to see how it does this "mysterious identity" angle they are promoting the first issue with. I can only hope it is not going to be botched like Red Hulk. -Reads the solicits for issues 2 and 3- Oh okay so they are going to reveal her identity to the readers but not to the cast of characters. I can dig it.
Moving on now we get to
Blackest Night: Superman #1
This week we get another mini-series that ties in to the a major summer event, and like every single min-series tie in that ever existed this one is going to be pointless. This is the truth about such things. I have never read a mini-series that actually mattered in the greater scheme of things. Still, if the story is great they are often worth the buy. If last week's Blackest Night Batman shown us anything that these stories can be pretty good. -Checks the credits- Oh James Robinson. I hope this is better than Cry for Justice (which is getting better mind you, but still not great). I don't have high expectations for this mini-series based just on the fact it will be pointless.
Oh yeah that is Earth 2 superman not Kingdom Come Superman.
That will do it for DC and its time for Marvel. Starting us off is:
The Amazing Spider-man #603
Let me start off by saying this: Why is it so hard to find the cover to a comic?! This makes the third time I had to improvise the cover for the pull list. I search for a while and can't find a version of the cover that I can use. Just annoying especially when Marvel does preview images of the covers in the comics themselves half the time.
Now for the comic preview. I am really digging this story right now. Everything is clicking and it seems the MJ is probably the reason why its clicking so well. Last week had a revel that was pretty–amazing. I am eagerly awaiting the next issue. I often read Amazing last as it makes the build-up greater, and it usually gets any bad after taste out of my mouth.
Next up is:
Mighty Avengers #28
I have been enjoying Mighty Avengers since the Baxter Job arc. I heard that the first story arc was not that good but I missed out on it (probably buy it when I get the chance). So the Baxter Job and the subsequent arc has been really good. To me this feels more like an avengers story. Maybe its due to its line up but who knows. Just something about it that makes it feel fun. Maybe its that Dan Slott is plotting it and Yost is doing the script. Again, who knows. I just know I  can't wait to read it.
Finishing up this week's Pull List is:
X-men: Legacy #227
I am going to start this with the cover itself. It looks bland. Nothing other then the two fighting. It is kinda cool to see Ares vs the god charged Rogue, but all of the Utopia covers–even the bad Dark X-men Beginnings mini-series–has had great covers. This is a major downer for me. Now the comic itself was pretty good last month. It was the first time I picked up the series since Sins of the Father arc last summer. I liked how the tie in fit into the story but wasn't essential to the main event. Should be a good comic with a great fight scene or two.
Well that does it for the Pull List. I might get two extra comics (Adventure Comics and X-men Forever) but that depends on if they come in this week. Be sure to check out the site Wednesday when the new "In Defense of" premiers. This week the defense is going to do the impossible: defend Superboy Prime. Should be interesting. Also be sure to check the site Friday when I review the newest comics of the week (aka this list).
If you have any comments or suggestions leave them below or send them to: comicbookoverkill@gmail.com
Another day and another update.
Well I guess I will start with the Next In defense of will be about Superboy Prime. I plan to have that ready for next Wednesday's update.
Also starting with New Comic Book Review this week, I will have my updates go live at Midnight EST. This way everyone knows when the next post is going up
In keeping with New Comic Book Review I am sad to say that I wont be reviewing Adventure Comics #1 or X-men Forever #5. Not sure what happened but all I know is they didn't come in. I am also not sure when I will get either book, but most likely wont be for another 2 weeks. I will review them in that week's New Comic Review. Just can't tell you when they will be reviewed. Also I forgot about a title that came in this week:
Marvels Project #1:
I didn't know this book was coming in. Must of overlooked the Diamond release sheet. Oh well. I am curious about this book especially after reading the preview. Should be great.
Well that is it for the news and updates for now. Expect New Comic Book Review to be live at midnight tonight. Thanks for reading.
This is a big week. If this week was a comic it would be called a double sized issue. I am throwing the 20 dollar budget to the wind this week  as 1) Its my birthday this week, 2) There is a lot of titles coming out that I read, and 3) I am a reviewer and I try to review all the major events and just so happens 3 of them hit this week. Should be a fun episode. So enough chitchat and one with the previews.
We will start with DC comics.
Adventure Comics #1
Alright I like to read Issue 1 of most comic series as it is fun to see how they present themselves for the general audience. They are to function as "jumping on" point for new readers, yet new enough for the fans. It is a balance few achieve and I love reading them to see how they do it. Now this is written by Geoff Johns. Johns is one of the writers I love  to read no matter how bad the idea behind the comic is. This comic looks to be fun. The 5 page preview I read in Detective Comics was pretty good and gave me an idea what to expect. I am not expecting much but I am expecting Johns to explain somewhat how Superboy returned to life after Johns killed him off in Infinite Crisis. I know it happened in Final Crisis Legion of three worlds but really not many people read it I don't think. The book was delayed and released after Final Crisis wrapped up. I wont go into that much but I have high hopes for Adventure #1. I pray it doesn't disappoint.
Moving on,
Batman #689
Not much to say about this one. I am loving the current run on Batman and I expect this to be good. I am really digging Dick Grayson as Batman. I love it when the sidekick's take the mantle of their idol, much like Wally and Bucky. I can go into this for a while but I wont. Can't wait to read this issue.
Next,
Blackest Night #2
Okay to explain the caption, there is no good Green Lantern poster. This would make for an awesome poster and even a t-shirt. DC brand this cover fast! Oh yeah, the comic. I loved the first comic and is on my top 5 comics of July. The only one to beat it was Amazing Spider-man #600. Green Lantern #44 makes me want to read this comic even more.
Keeping with Blackest Night:
Blackest Night Batman #1
I have no idea what to expect for this comic. It has Deadman as Black Lantern grabing at Dick Grayson's heart. Very nice cover but will this be a pointless Blackest Night Tie-in? Probably. Will it be good? Not sure yet. I am getting this for crictic purposes and not just my own whimsy like I normally do. I would like for it to be good, but chances are it will be bland.
Blackest Night extravaganza will finish with
Green Lantern Corps #39
There is a lot of Dead Lanterns, A LOT. So Blackest Night will hit them hard and we are promised a whole planet to return to life. This will be epic and amazing. I expect this to be essential to the Blackest Night story line much like how GL #44 was. Can't wait.
That does it for DC time to go to the other company, Marvel.
Starting us off is
The Amazing Spider-man #602
Amazing Spider-man is rocking my socks off these past few weeks and I am really eager to read this. The title has been making my pick of the week two weeks in a row, will it's streak continue? We will find out. Now lasts week reveal makes things more interesting and is going to make this comic…Amazing.
Moving on,
Incredible Hercules #132
The cover alone is enough for me to pick it up, but apparently Herc fills in for Thor. Also we get Amadeus Cho's back story. This will be the first Herc issue I have picked up in two years. Should be interesting.
Now time for the Ultimate Comics!
Ultimate Comics: Avengers #1
The Ultimate universe is given a much needed reboot and this is one of the few launch titles. I never read much of the Ultimate universe as they were oddly the hardest to get into, which defeats the point. So I hope this is good as Marvel gave reigns to the reboot to Jeph Loeb who is crazy now. UC Avengers promises to be at least interesting.
Next we have,
Ultimate Comics Spider-man #1
This is basically the cover without the holofoil background. Now this is the only title to survive the Ultimatum reboot. Just got retitled and renumbered. Bendis is behind the wheel here which should bring some joy to me. This wll bring the total of number 1′s to a staggering 4 titles.
Now let's go into the X-men Universe-
Uncanny X-men First Class #2
I love the early Claremont era of the X-men and this series is smack dab in the middle of it. I can actually name the time frame it takes place. Uncanny X-men #109-#111. Yeah I am that much of a geek, and I had my handy Essiential X-men Vol. 1 in hand. Great series and this part of the story is mixing Fantastic Four Lore with X-men. Great stuff.
Next we have
Uncanny X-men #514
Okay despite some minor complaints about Utopia, this is a good X-men Story line. Not the best but damn close.  I even admit The Dark X-men is growing on me despite a horrible mini-series. Actually there is news the team is going to continue after the even with Dark Beast and Mimic (the best characters by the way). I am curious on how this is gong to end and each issue reveals a little bit each time. I love Fraction so I am a little eager to read this title.
Now to finish up the pull list is
X-men Forever #5
Seriously this is almost like the actual cover. Now why isn't the cover here? Simple answer is that since the title ships twice a month, the solicits are only with one cover. So finding an online version I can use is next to impossible. I am lucky I found this piece. It must be a variant cover. This comic series sucks and I am hoping this issue steps it up. Two bad issues in a row makes me want to drop the title. Its a great idea but I can rant on this comic for about an hour. I hated the last issue and this one doesn't look better. Though it looks like Pete Wisdom is there or Daredevil. Can't really tell.
Alright that does it for this week's pull list. Expect the newest episode of New Comic Review to air Friday. I will review all 12 titles. This makes for the biggest episode of New Comic Review yet. So join me Friday for new comic reviews and check the site out during the week for updates. Some In defense of news is coming down the pipes this week. So check out the site for that.
Thanks for reading.
A light week with only Three titles.  So here is what to expect come Friday when the newest edition of New Comic reviews hit.
Only one DC title this week and that is:
Justice League: Cry for Justice #2
If you are unaware Justice League: Cry For Justice is a miniseries in which the heroes go looking for justice. Problem is the first issue was horrendously bad. Even with such astonishing painted art the book is just bad. The first issue lack any hint of a plot, cohesion, or the simplest forms of storytelling. Only thing we know is that they "WANT JUSTICE!" and that really is it. Let's hope issue #2 picks it up as this book's team will be the official JLA team after the series wraps.
Marvel's titles are next
We'll start with Captain America Reborn #2:
Good ol' Steve Rogers is coming back from the dead but he must escape temporal limbo first. What does Red Skull want with him? My money is to take his body. That is almost always the motivation. The first issue was pretty good. Let's see if Issue #2 brings the goods. You can't have Hitler in a headlock on the cover without doing something awesome.
Now to finish up the Pull List we got:
Amazing Spider-man #600
Amazing Spider-man 601, the return of MJ! After being faked out by Marvel once before *cough*Jackpot*cough* Marvel is finally bringing Mary Jane Watson back to Spider-man. How does she fit into this Mephisto'd universe? Will Pete remember her? Does she know Pete's secret still? What does this cover mean?
Those were the questions I had when I say this in the preview books. I want to read this book and I am hoping not to be let down. Also the book will feature a back-up by Bendis about Spider-woman (if his twitter feed is correct).
That does it for today. Join me Friday when I review these titles.
Its actually a real heavy week and I am going to stick to my 20 USD budget for comics this week. So that means some books won't be bought till next week. At least there isn't a new comic book movie coming out next week so I can spring for more comics.
So this week's pull list:
Starting with DC comics:
Detective Comics #855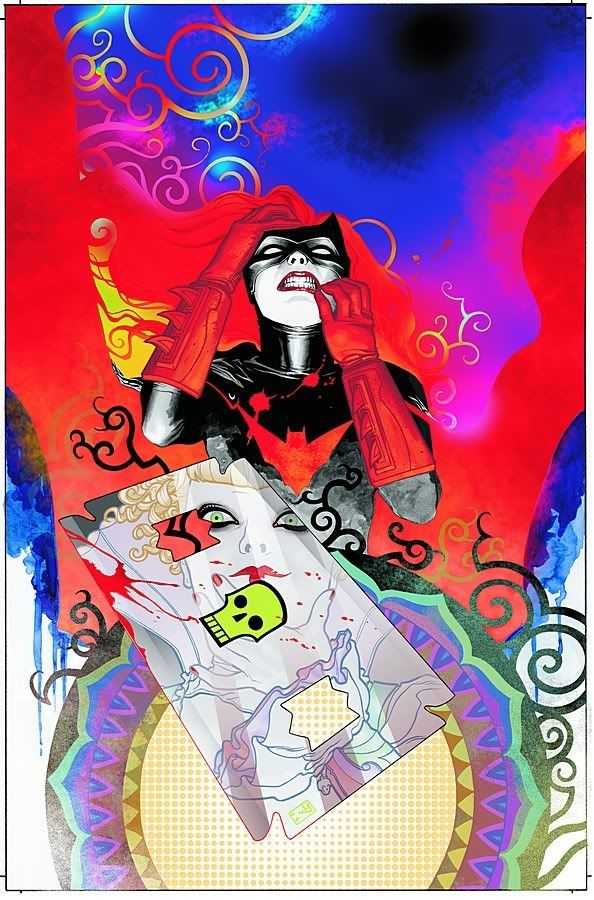 This acid trip cover is brought to you by DC comic
I love the first issue of this arc and can't wait to see where it goes.
Next is,
Wonder Woman #34
This will be the first Wonder Woman comic I have ever bought or read. After hearing that the book is pretty good, I figure I will give it a shot. I hope it lives up to the expectation.
That wraps up DC this week, now to Marvel:
Dark X-men The Beginning #2
I wasn't too big on the first issue, but I am going to give this a shot. The main reason for that is that this is an anthology type comic that can be hit or miss. I hope for a few more hits.
Next up,
X-men Forever #4
I couldn't find the actual true cover to this comic. So I settled for the solicitation cover. After last issue's meltdown of reason I pray that this issue will explain the mess. The big reveal at the end of #3 was a twist I didn't see coming and right now doesn't make sense, but I believe in Chris Claremont. I believe he will right the ship. He has too.
and hopefully I will get this:
Amazing Spider Man #600
I know this book came out last week, but due to a shipping snafu I had to wait till this week. Hopefully it comes in this week. If it doesn't I will probably pick something random up.
Expect review of each of these comics come Thursday or Friday. If you have any suggestions for the pull list leave a comment below.